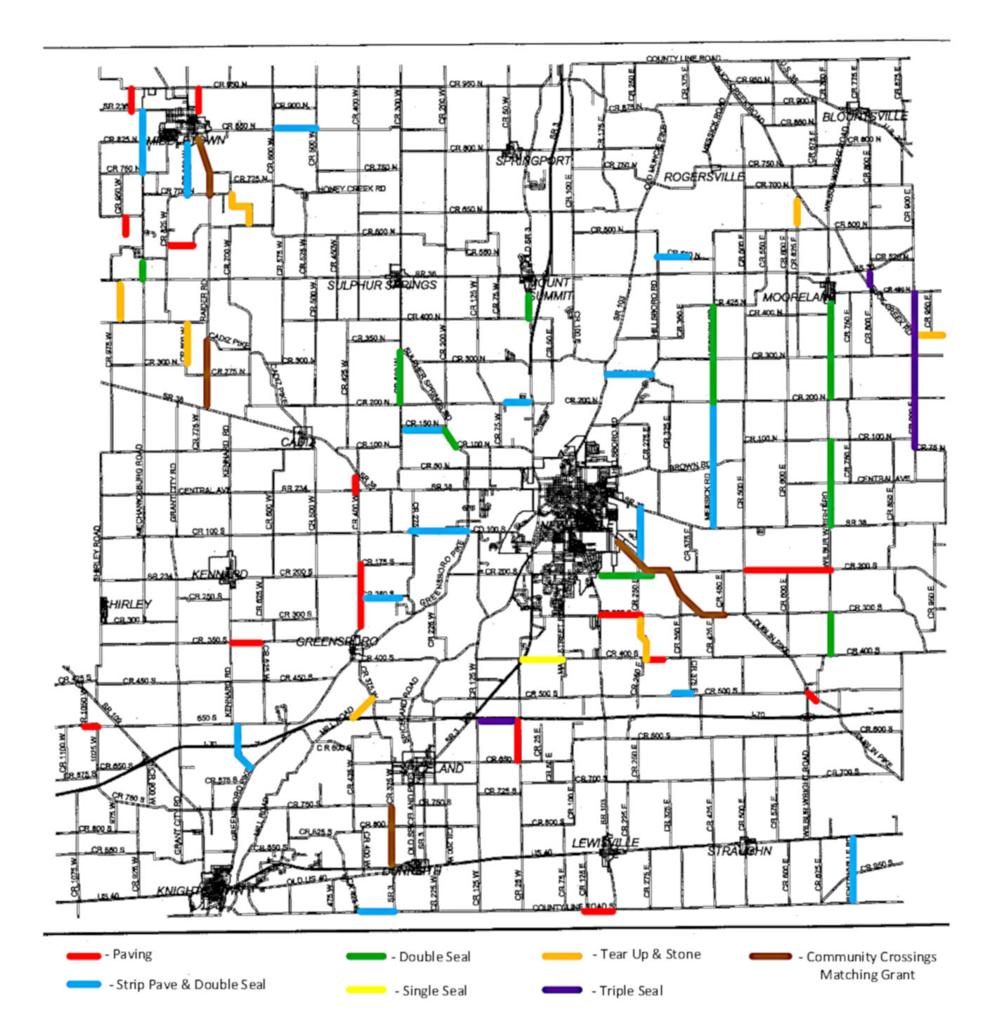 Second in a series
Joe Copeland is a man with a plan.
As a student at Tri High School years ago, Copeland excelled at math. In his role now as County Highway Superintendent, he's developed a mathematical formula to attack a problem that's plagued Henry County for decades.
"I have an equation I use that takes into account whether the thoroughfare is a collector, local road or arterial," Copeland explained. "I give it points if it has higher traffic. I give it points depending on how many houses are on that road. The number of houses will break ties.
"So I use that equation, then put a spreadsheet together, tally it up and see which ones come to the top. Then I start there and work my way down."
Copeland is seeking $1 million in Community Crossings grant money. He said three roads that currently rise to the top of his chart include:
325 W. south out of Spiceland to 750S, a well-used route for Draper, Inc. traffic.
"It's pretty good out of Spiceland until you get to 750S, then 750S to U.S. 40 is a mess," Copeland said. "A lot of people seem to take that to Draper's, including trucks, so I want to try and get that fixed."
Copeland brings lots of experience to the job.
He was Hancock County engineer for more than 27 years and served as highway engineer here from 2014 to 2017. Now he's back serving Henry County in a dual role – highway superintendent and engineer.
"I've seen quite a bit," Copeland said of his road experience. "I've been doing it for many, many years. It's nothing new."
For Copeland, who was on the Titan track team in high school, the road repair race starts with the base.
"A lot of it is a base problem," he said. "If we've got roads that were old chip seals that are coming apart – particularly if we see some clay coming up through it – we need to start over. So we'll tear out the chip seal and put additional stone down to build up the base. Trucks getting off over on the edge is pretty common and that's rough on a road.
"A lot of it, too, is how many trips are made on that road," Copeland added. "Some of these hog operations make lots of trips, but I've also noticed dairy has a tremendous amount of trips with heavy trucks and they're tough on roads, they really are."
A color-coded map shows planned road work in every corner of the county. Included in the plans are:
Paving (red lines on map) – Portions of Road 200S, Dublin Pike, Countyline Road, 400S, 300S, 400W, 350S
Strip pave and double seal (blue lines on the map) – Portions of Countyline Road, 150N, 100S, 200N, Messick Road
Double seal (green lines on the map) – Wilbur Wright Road, Messick Road, 150N, Old Ind. 3, Mechanicsburg Road
Triple seal (purple lines on the map) – Road 900E