Blue Oyster Cult doesn't fear the reaper, and neither does New Castle's Bastion Crider.
The chicken wing fan has his sights set on the Buffalo Wild Wings' Blazin' Challenge, a competitive eating competition that pits mere mortals against a plate of 10 Blazin' Carolina Reaper Wings.
Like an eager kid waiting to get ice cream for dessert, all these crazy contenders have to do is clear their plate. The fastest finisher will walk away with two tickets to the NCAA Final Four and Championship games and a bag of other goodies almost as sweet at the honey BBQ sauce.
Crider finds himself in the B-dubs Final Four this weekend. The Championship – the main course, as it were – takes place at 1:30 p.m. Saturday, April 3.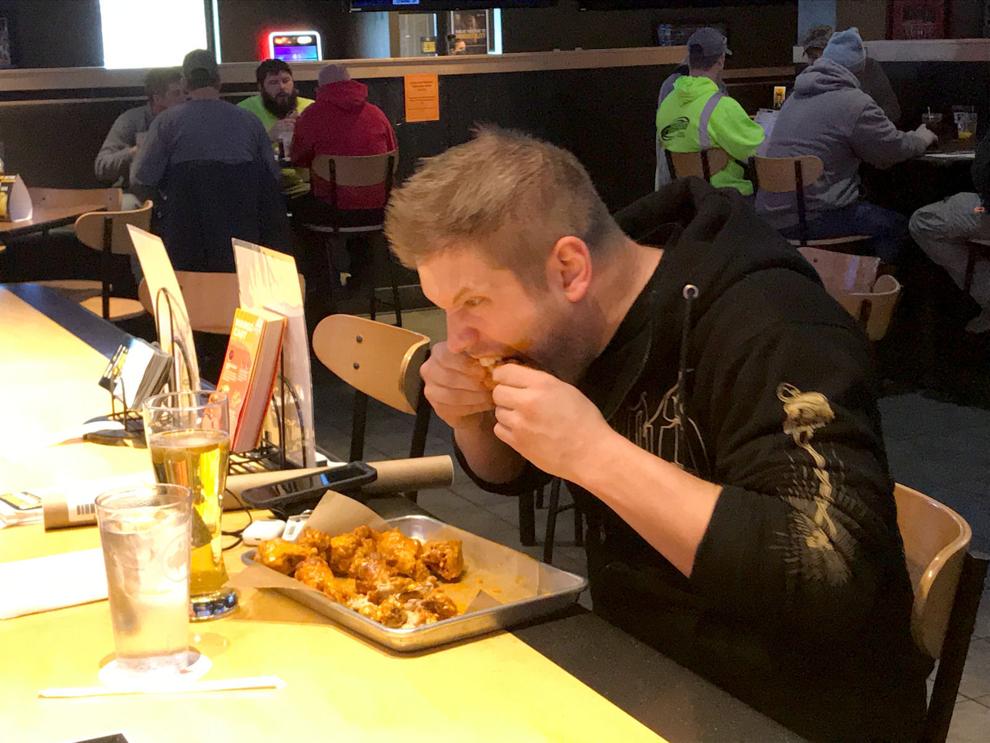 Crider will go head-to-head against three other chicken wing champs hungry for the title at the downtown Indianapolis Buffalo Wild Wings. The bout will air over the Buffalo Wild Wings Network, meaning New Castle fans need travel no farther than their local bar and grill at 1715 S Memorial Dr. to cheer on their local son.
In Round 1, among 32 challengers, Bastion Crider cleaned up with 1:53 on March 19. He shaved of 9 seconds the next week in the Sweet 16. He thinks he can do better than 1:30 this weekend.
"I have discovered over the years that the speed at which I eat is uncommon ... I think I can shave off another 40 seconds," Crider said, confidently. "Sometimes ordinary men are called upon to eat extraordinary things."
At the same time, he acknowledged that the Carolina Reaper sauce isn't kind to a body in its 30s.
Bastion is also glad Buffalo Wild Wings has trained EMTs onsite during the championship competition. In Round 2, some of that Carolina Reaper sauce on that first wing went down the wrong tube. It took him 15 precious seconds to recover, pushing him past his natural 1:30 time.
The sauce is an spicy upgrade from the original Blazin' Wings, by the way.
"It's got a little better flavor than the other version, and it is hotter," Crider attested.
Crider will see Joshua D. from Bloomington (1:56), Chris D. from Plainfield (1:34) and John C. from Castleton (1:03) in that mighty battle. He knows John C. is the guy to beat Saturday.
"I might win. If I win, it's because the next generation of wing eaters is not ready to bear my crown," a humble Crider told The Courier-Times. "It's important to me that the world see 10 wings in 2 minutes isn't fast. I'm here to keep everyone honest. If I don't win, it's because the other guy was blazin' fast."
That's why Bastion has been working on his technique this week.
More than meats the eye
What's the secret to getting 10 Blazin' wings down in record time (besides not stopping to breath)?
"Don't chew," Crider said. "... Bite, swallow. Bite, swallow. Only chumps and amateurs chew their food."
A young Crider taught himself how to swallow his food whole when he was in high school.
"It's probably one of my most important skills," he mused.
Contrary to what the textbooks teach, Crider finds flat wings easier to de-meat than the drummies. He can pop a flat in his mouth and use a combination of teeth and tongue movements to get all the morsels loose. Then "look out stomach, here it comes."
You can't do the same thing with those thick drumsticks.
"It's easy to strip the meat, but hard to swallow that mouth full of meat," he said. "The problem is finding the balance between just ripping all the meat off and getting those small boluses you can just swallow down.
"It's no good tearing the meat off in 1 second if it takes 7 seconds to chew," he added.
It's not about getting seconds for this lunch; it's all about getting firsts.
Just waiting for this moment
You can almost say Crider has been preparing for this moment his whole adult life.
Winning tickets to the Final Four basketball games and free chicken wings for a year (plus a $500 gift certificate and a bunch of other free stuff) is cool and all, but Crider is in it for the chicken wings.
He's celebrated probably 20 birthdays at the iconic black and yellow sports bar. Many a chicken wing was honored to be on his plate at the Muncie location before New Castle got its own B-dubs.
When the Memorial Drive location opened, Bastion was there every day. By his reckoning, he didn't miss a day in the first 90 days after they fired up the ovens.
Now, his home court has been helping his train for the Final Four championships.
Bastion Crider doesn't just go to Buffalo Wild Wings for the ambiance; it's also where he met his girlfriend, Haleigh Canan. She's going to be cheering him on Saturday and will (hopefully) have some of those wet wipes handy while the scores are being tallied.
Before blasting into the wings, Crider dons the hoodie Haleigh got for him (or one of the backups he ordered himself).
His dad, Greg, was there for Rounds 1 and 2. So was fellow hot wing enthusiast Jeremy Havens, who made it to the Sweet 16 bracket himself under the moniker "J'avens."
Now, Havens is in his buddy's corner, getting him psyched for the big show on Saturday.
When not facing off against other speed eaters, Crider makes a living practicing law. He meets up with Havens and some other solicitors at the local B-dubs at least once a week for lunch.
"It's been a really big year for my friends," he said. "Joe Lansinger learned how to open a champagne bottle with a machete and Sean Row learned how to ride a bike. When Chip Marsh bench pressed over a hundred pounds last week, I decided it was time I did something meaningful with my life as well."