Jayna Womack grew up in New Castle before moving to Oklahoma with her husband, James (J.D.) Sontag.
On Jayna's birthday last week, J.D. shared the sad news that Jayna is fighting the same type of cancer that killed her granny, Annie Ware, in 1996.
"My friend from high school, now my long-time partner, wife, and best friend has been diagnosed with Stage 2B cervical cancer," J.D. announced on his Facebook page on July 12.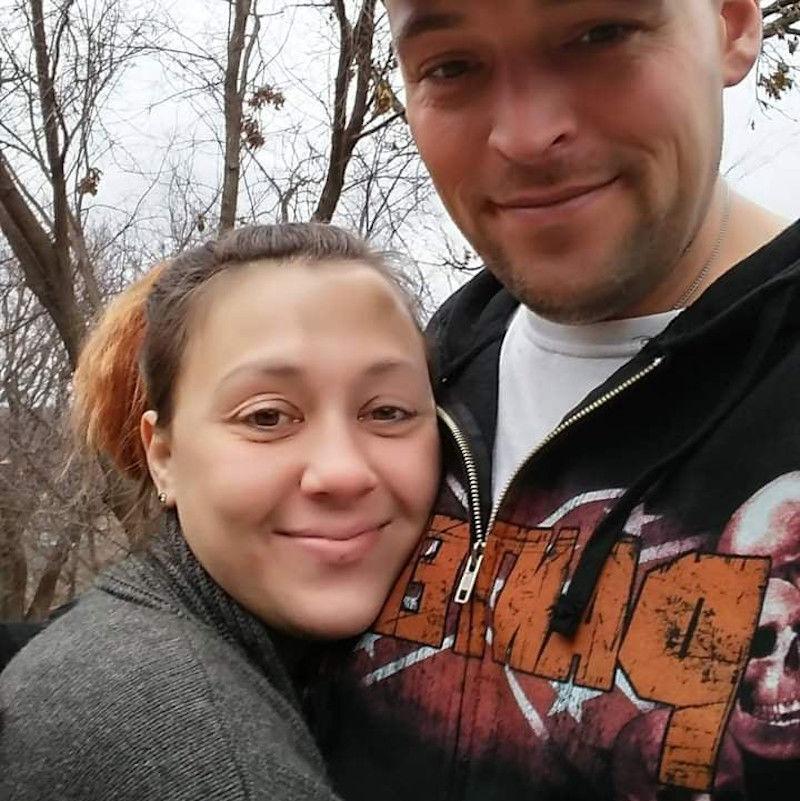 Jayna is a career waitress who can't work now because the pain makes it too hard to stand.
"It's a very painful, exhausting, and expensive battle that I would not want to see anyone go thru, let alone my wife," J.D. said. "She has gone from one of the hardest working people I have ever seen to not working at all... She can barely walk anymore for long periods."
J.D. met Jayna when they were in elementary school; he went to Greenstreet and she was at Parkview. They were friends all through high school.
Jayna graduate from New Castle Chrysler High School in 1997. J.D. received his GED in 1998.
J.D. moved from New Castle shortly thereafter. Jayna stayed on here, where her parents, Alice and J.R., lived and eventually retired.
In 2010, J.D. move back to New Castle to work for TS Tech and the two reunited. They have been together ever since. The couple moved to Tulsa in 2015 shortly after J.D.'s father passed away so they could be closer to his mom, Martha.
As fate would have it, Martha is fighting her own battle right now against uterine cancer, J.D. said.
"This disease makes you feel so helpless and angry," he said.
J.D. is a certified nurse's assistant (CNA) in a memory care facility in Oklahoma. He specializes in Alzheimer's, dementia, and Parkinson's memory care patients. Like everyone in healthcare, he's just been through the worst year in healthcare this country has ever seen.
"Everyday I see the worst of the worst with diseases, and it's so hard to come home and see my wife in the condition she's in," he said.
J.D. said Jayna has three adult children who still live in New Castle. Because of the cancer and the pain, she couldn't make the trip back to town this summer when their grandson, Jonah Ward, was born.
"That was another hard blow," J.D. said.
Jayna has filed for Family Medical Leave Act (FMLA) leave from work and is looking for any emergency financial aid programs. While sitting in the Oklahoma Cancer Research Institutes lobby last week, J.D. created a GoFundMe page to help with Jayna's chemotherapy and radiation treatments.
"As a healthcare worker, it is really hard to see her going thru this and I can't do anything but watch the bills stack up. And work as hard as I can to keep us afloat," he said.
As of Monday, they had raised $1,500 toward the $5,000 goal. You can donate at https://gofund.me/ffb6b089 or mail a donation to J.D. and Jayna Sontag, 1139 Bayshore Dr., Sand Springs, Ok 74063
J.D. posted an update to the GoFundMe page on Monday that Jayna's doctor had increased her pain medicine again.
"She eats very little and sleeps very little," he said. "She's definitely a fighter. And it's day to day right now."
Jayna's chemotherapy and radiation might start Aug. 2, but they don't yet have a definite date.
According to the National Cancer Institute, in Stage IIB cervical cancer, the disease has spread from the cervix to the tissue around the uterus.