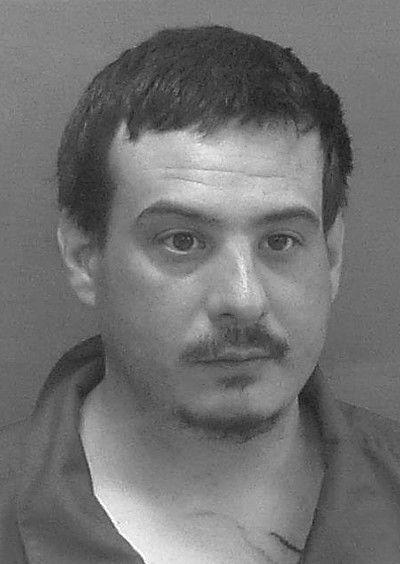 An Indianapolis man is in Henry County Jail after allegedly biting and punching a county officer.
According to the Henry County Sheriff's Office, a call came into dispatch just before 10 a.m. Sunday from South Memorial Drive Church of God.
Easter Service was scheduled to begin shorty.
The caller reportedly told dispatch that a white man in military style clothing and a large backpack was walking around the cars in the parking lot. The caller later told investigators they were worried the man would might try to break into vehicles.
Less than a minute after hanging up with dispatch, the same caller called back and said the man had allegedly walked into the church, dropped his backpack in a room in the church and went back outside without speaking to anyone.
They said the man "walked in and started walking around the church in a very strange way."
According to the report, the first responding officer drove up the subject, later identified at Tyler Jacob Gramelspacher of Indianapolis, and exited the vehicle.
"As I was exiting, the subject turned away and started walking south away from me instead of west," the HCSO sergeant reported. "I yelled for the subject to stop and he continued walking."
The officer reported Gramelspacher did not identify himself when asked.
Gramelspacher reportedly responded, "F--- you. I know my First Amendment. Go away. You are messing up my strategy."
According to the officer, Gramelspacher then reached into his pockets. The report states the officer repeatedly told Gramelspacher to take his hands out of his pockets. Gramelspacher allegedly refused and began using "very profane language and started walking backwards as he continued to dig in his right pocket." At one point, Gramelspacher reportedly walked toward the officer, at which point the officer took him to the ground.
According to the report, Gramelspacher rolled on top of the officer and began punching the officer in the face. The two reportedly traded blows, then the officer held him down as other deputies were arriving on the scene.
While Gramelspacher was being placed in handcuffs, he reportedly bit the first officer on the forearm, piercing the skin. After he was in shackles, officers found a photo ID in Gramelspacher's pocket.
After taking Gramelspacher to Henry County Jail, the officers searched the bag Gramelspacher reportedly left in the church. According to the report, the found clothes, food and "a very large Ka-bar knife."
Gramelspacher was formally charged Monday with Level 5 felony battery on a law enforcement officer and Class A misdemeanor resisting law enforcement.