When he was a kid, Lee Marcum knew exactly when his dad had arrived home from work. It wasn't the sound of a car pulling into a driveway, a door opening or a voice calling. It was that smell. That intoxicating, heavenly, sugary sweet smell of Jack's Donuts.
"There's nothing like it," Lee said. "It's one of a kind."
Now, it represents the sweet smell of success. Jack's Donuts is 60 years old today. Twelve U.S. presidents, 11 Indiana governors and nine New Castle mayors have taken oaths of office in that time period. In those six decades, man walked on the moon and the computer-driven Information Superhighway opened. Locally, people have cheered basketball heroes in the 'largest and finest high school gymnasium,' opened just 17 months before Jack sold his first donut. Years later, fans got to revere the donuts again when the Indiana Basketball Hall of Fame museum came to town.
And yes, as many as a dozen police chiefs in the city's history have enjoyed a Jack's donut.
"The bakery industry is a weird industry," Lee said. "The hours are so odd. People are always putting cops and donuts together. That's because we work the weirdest hours ever. It's such a unique business. It's unlike any other."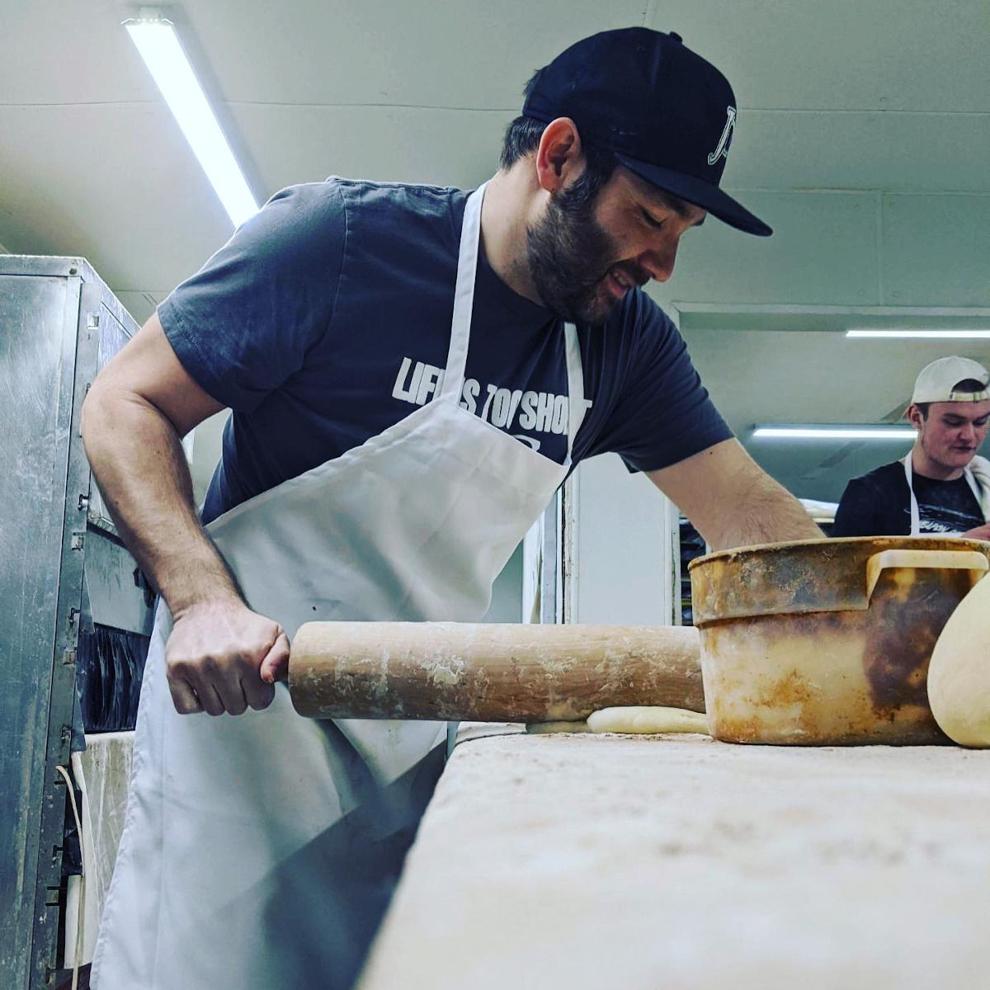 It is also perhaps the most delicious piece of history New Castle has ever baked.
Even a fire could only briefly interrupt what Jack Marcum Sr. started and two subsequent generations of his family carry on today.
That September 1999 fire virtually gutted the facility at 2440 S. 14th St. For some businesses, such a tragic event could have been fatal. Yet Jack's not only reopened and survived. It has gone on to thrive, thanks the steady, dedicated and creative hands of the Marcum family.
The family trade
Family ties are literally baked right into the business.
When Jack Marcum Jr. was in charge, brothers Tony and Jeff were part of the team. Now that Jack's son, Lee is in charge, Tony and Jeff's sons work here.
"Those are the guys I rely on when I have to travel," Lee said. "Just last week, they were over there in Indianapolis stores training people in the middle of the night. Whatever you ask them to do, they don't bat an eye. They just get it done."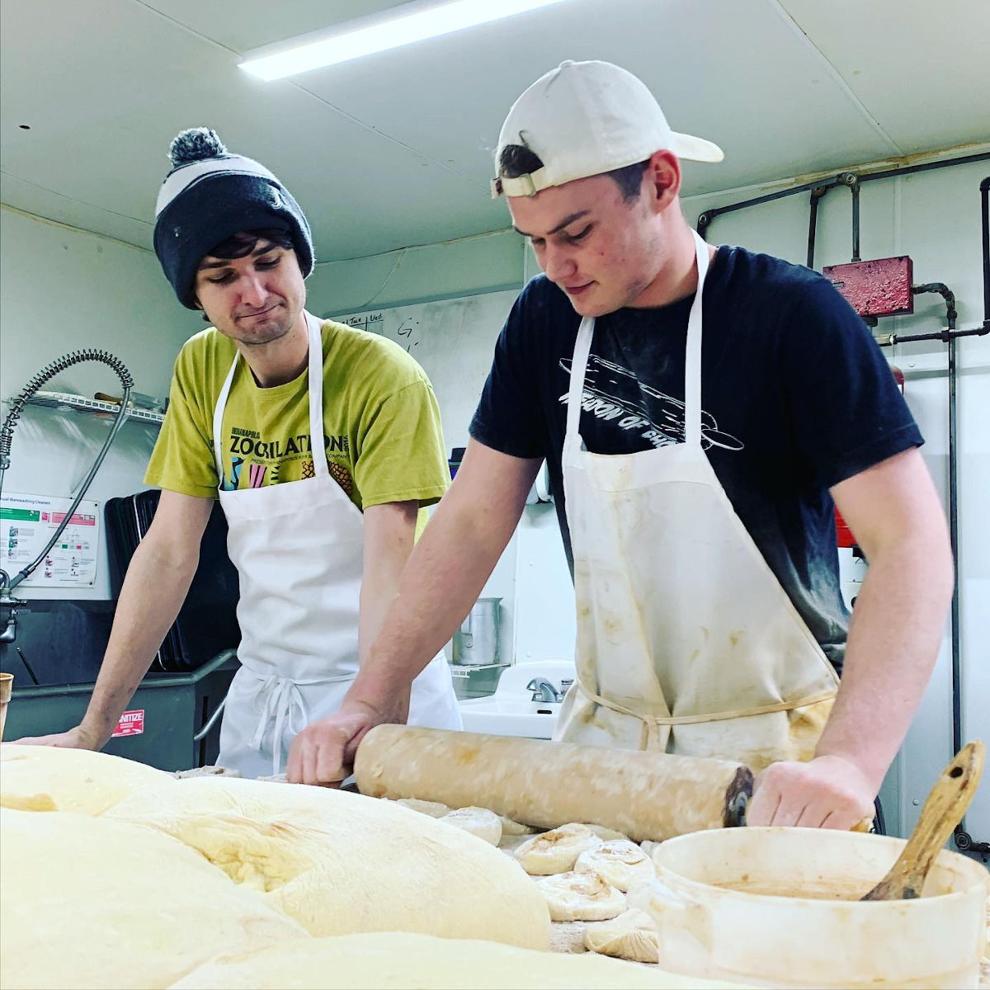 It is a seven-day-per-week, 361-days-per-year job. The only time Jack's isn't open are Thanksgiving Day, Dec. 25-26 and New Year's Day.
Second-generation Jack has stepped back from his donut role, but still works about 15 hours per week. He's more than happy to let Mr. Jack "Lee" Marcum III lead the way, even though this third-generation "Jack" has taken the business in a vastly different direction.
Busy, busy, busy
For example, Jack Jr. had worked hard to develop a route of as many as 35 stops where donuts were delivered and sold daily at other locations in addition to the 14th street shop.
When Lee took over, he decided to drop them all.
"I wanted to backhand him," Jack Jr. said with a laugh.
"He called me a few names," Lee said with a smile.
But the method to the youngster's previously feared madness has paid off. He expanded the store hours from its previous six hours a day to 19 – 20 on weekends. It's more than paid off.
"If we had a drive-through, we'd be open 24 hours a day," Lee said.
It was Lee's experience as a parent that helped influence the longer-hours strategy.
"The light bulb that went off in my head was remembering when I had young kids," Lee explained. "I had three sons – two infants and a two-year-old. Their sleep schedule and what our mornings were like would never allow me to come in between 5 a.m. and 11 a.m. It just wasn't in our routine. It wasn't possible. I remember thinking, 'surely I can't be the only person who's like this.'
"I thought, 'you know, we're really limiting ourselves on what we can do,'" Lee continued. "So we started staying open longer hours and it grew pretty quickly."
Lee's changes have meshed nicely with today's family schedules, which are vastly different than they were when his dad and grandpa were running the show.
"Back in the day when Chrysler was open, it was a zoo down here between 5 a.m. and 6 a.m.," Jack Jr. said.
But Chrysler is long gone. More families today have both parents working. Juggling jobs and school created different needs.
"There's a new rush between 2:30 and 3:30 p.m. now," Lee explained. "We have a lot of moms with kids who come in the evenings. Kids will get donuts but mom will just get a sugar cream vanilla latte or something like that. Mom just got off work. She needs a pick-me-up, so she orders an Espresso. It's just funny how habits have changed over the years."
Numbers back up the wisdom behind the expanded hours change.
"Eight to 10 years ago, 95 percent of our business was done between 5 a.m. and noon, with maybe 5 percent between noon and midnight," Lee said. "Now it's 50-50. We have just as many people in the evening as we do in the morning. We don't necessarily have the giant rush, but there's always activity in here, which is awesome."
A cup of joe
While coffee has always been served at Jack's, the Starbucks generation has created demand for more than just cream and sugar to go with the time-honored drink. That's another change Lee Marcum and his staff have embraced.
"Coffee is not just a morning drink anymore," Lee said. "When we put our Espresso bar in about eight years ago and introduced our signature drinks, that really opened up a new avenue of business. We have a giant coffee crowd now that we've never had before."
The tried-and-true standard cup of coffee has now been joined by smoothies, lattes and frappes. The signature drinks are all based off of Jack's Donuts flavors.
And, true to the store's roots, the coffee served became like the donuts baked – a bona fide original.
"Jack's Donuts Coffee was introduced eight years ago and has been really successful," Lee said.
Generations of local families have now enjoyed Jack's Donuts. But now, thanks in large part to Lee Marcum's vision, that family tree has been extended beyond Henry County and even Indiana's borders. Indiana Pacers star Myles Turner and WTHR Channel 13 television news anchor Anne Marie Tiernon are among the newest members of that extended family as the intoxicating Jack's Donuts aroma wafts its way into the Indianapolis market. More on that as our series concludes Friday.