Kennard Volunteer Fire Department is hosting its 2021 "Wheels on Fire" car show Oct. 8-10.
The event will be held in and around the Kennard area with town-wide garage sales along with bake sales, craft vendors and more. Some of the events and booths will also be located inside the Kennard Senior Living Facility.
The KVFD 3rd annual Wheels on Fire event will benefit not only the local Kennard Community but also the Kennard Volunteer Fire Department.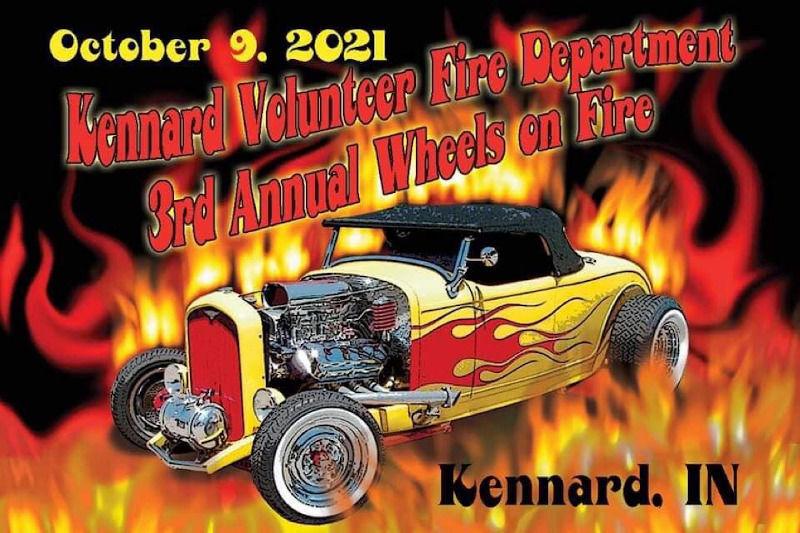 COVID restrictions come into play with this event, with a majority of the options being offered outside and within safe distances from one another. The safety of the town citizens, as well as the residents of the Kennard Senior Living, will be monitored and respected.
Booths offering various items for sale will be open all three days from 8 a.m. until dark.
There will be plenty of food offered at the event all three days. Hog roast, bake sale and a full menu offered from Sky Pizzeria will be options. The hog roast will start at 11:30 a.m. on the 9th.
Hazard Bound takes the stage Saturday afternoon. There will also be a bounce house.
Saturday, Oct. 9, will be the busiest day of the event with a vehicle show. Registration begins at 10 a.m.
Anything with a motor is welcome to enter. Cars, trucks, tractors, and motorcycles. Vehicles are $15 each for registration.
If you would rather take the benefit ride on your motorcycle instead of entering the car show, there is a benefit ride sponsored by the Warthogs of Henry County Chapter. Motorcycles for the ride are $20 for one rider and $25 for two. Registration starts at 10 a.m. and the 120-mile ride starts at noon.
COVID interruption in 2020
Kennard resident Holly Lee not only organizes events like this for the town but is also an EMT, furthering her career and education with the Kennard Volunteer Fire Department. Lee is always going above and beyond to make sure the town of Kennard is safe, clean and full of residents with no complaints.
She talked about last year's event and said that in 2020 the show had about 30 cars and motorcycles registered.
"There were also about 15 tractors," she continued. "With COVID in our mists, we were lucky to have a show at all. We had social distancing, hand sanitizing, and approval from the health department. Every participant left with a dash plaque, goodie bag, and door prize. Unfortunately, 2020 cash donors were hard to find. Many of our fire members donated $300 or more out of their own pockets just to put the show together."
Wheels on Fire 2020 had door prize donations from Auto Zone, Royal Highland Golf, Indianapolis Indians, O'Reilly, Jeff's Pizza in Knightstown, Block and Brew, Harmony Wine, Studio on Main Hair Salon and Rockauto, Lee said.
"With COVID shutting the world down for so long, the car show was the first thing that felt almost normal. Although we had few cars, the atmosphere was full of friendship, fellowship, and laughter. It was really a nice event," she said. "This year I would like to thank Sky Pizzeria, who donated $400, Citizen State bank who donated $200, Holly Guffey ERA realtor who donated $200, T. Lee. Mobile Mechanic who donated $200, Responder Training Enterprises who donated $200, Swackhammer Masonry and Concrete who donated $200, and H and S Services who donated $200. Thank you so much for your contribution to the Town of Kennard and this event."
Special thanks, also, to George King and the residents of the Kennard Senior Living Center for allowing the use of property and building to house this very special community event, Lee said.
Funding needs
Lee said the VFD needs donations for many reasons.
The Kennard Volunteer Fire Department started the Wheels on Fire fundraiser in 2018 when they lost the contract and funding from the Greensboro Township Trustee Office. The volunteer department lost $6,000 along with that contract.
The VFD operates on a budget of about $2,200 each year. Everything else is from donations.
"We do not get paid to train, class time, our books, gas, or time away from family. We all have full time jobs and answer the (emergency radio) tones when we are home," Lee said. "Our equipment is old, our tanker is on its last days as we bandage it together the best we can (to) make runs, our turnout gear is out of service date, air tanks are set to expire.
"We write grants with no responses. We understand we are not the only department facing fund shortages, however, out of 14 Henry County Volunteer Fire Departments, we are the only one that does not receive funding from its own Township Trustee Office," she continued. "We need the Trustee's funding back, and we need all of our fundraiser to do well."
Fundraisers like "Wheels on Fire."
Emergency lifesavers
"Our department was developed in 1924 and, 97 years later, we are still here," Lee said. "Today, there are 14 dedicated volunteer men and women on our department."
Lee said of the 14 members, Kennard VFD has one paramedic; three nationally-registered emergency medical technicians (EMTs), with two more starting class this month; and one "hazmat guru." Twelve of the volunteers have passed the basic firefighter certification course and five are certified in Fire I, Fire II, and Hazmat (hazardous materials).
In the town of 470 citizens, volunteer firefighters are likely the first people to show up to an life-threatening emergency.
"Our nearest hospital is 15 to 20 minutes away. The nearest station from ours is 10 minutes away, in addition to the time it will take a person to get to their station gear up and mark in route. In an emergency time is precious," Lee said. "Our town's citizens and the surrounding community mean something to each of us. In three years, I personally have been to 10 fires, some large, some small. Each one had an impact on me knowing that if we, Kennard Volunteer Fire didn't exist, that's more manpower that Henry County will not have.
"Volunteering isn't about glory it's about knowing your helping your neighbors in their weakest moments," she said.
If you would like additional information, contact Holly through email at holly@kennardin.com or call 765-388-4443