MIDDLETOWN — Masks may have still been part of the attire, but the pandemic took a back seat to the academic Sunday as 88 tried and true gold and blue Shenandoah seniors graduated.
During an inspirational ceremony in the high school gym, a wide range of emotions helped turn the tassels for a group who experienced hardships like few others.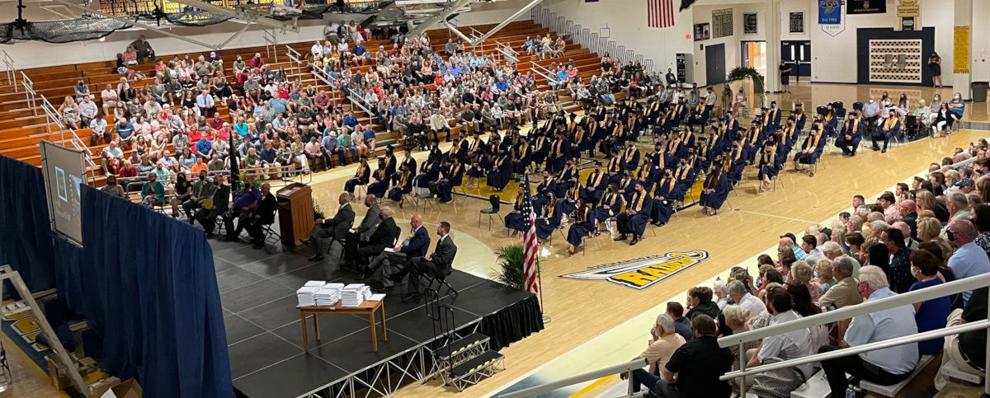 "The Class of 2021 may have endured one of the most difficult senior years in recent memory," Shenandoah Principal Greg Allen said. "You've endured the uncertainty of school being open and closed during COVID-19. You've had to learn virtually while staring countless hours at a computer screen. Probably one of the most difficult things is you've had to go without seeing people smile because of wearing a mask. And most painfully, you've had to endure the loss of two beloved classmates."
"I stand before you today as proud of Shenandoah, our students and our community as I have ever been," Allen concluded. "Our students have shown tremendous grace under tremendous pressure."
Laughter, tears, hugs and cheers marked a return to commencement exercises reduced to an outdoor drive-through format a year ago because of the pandemic.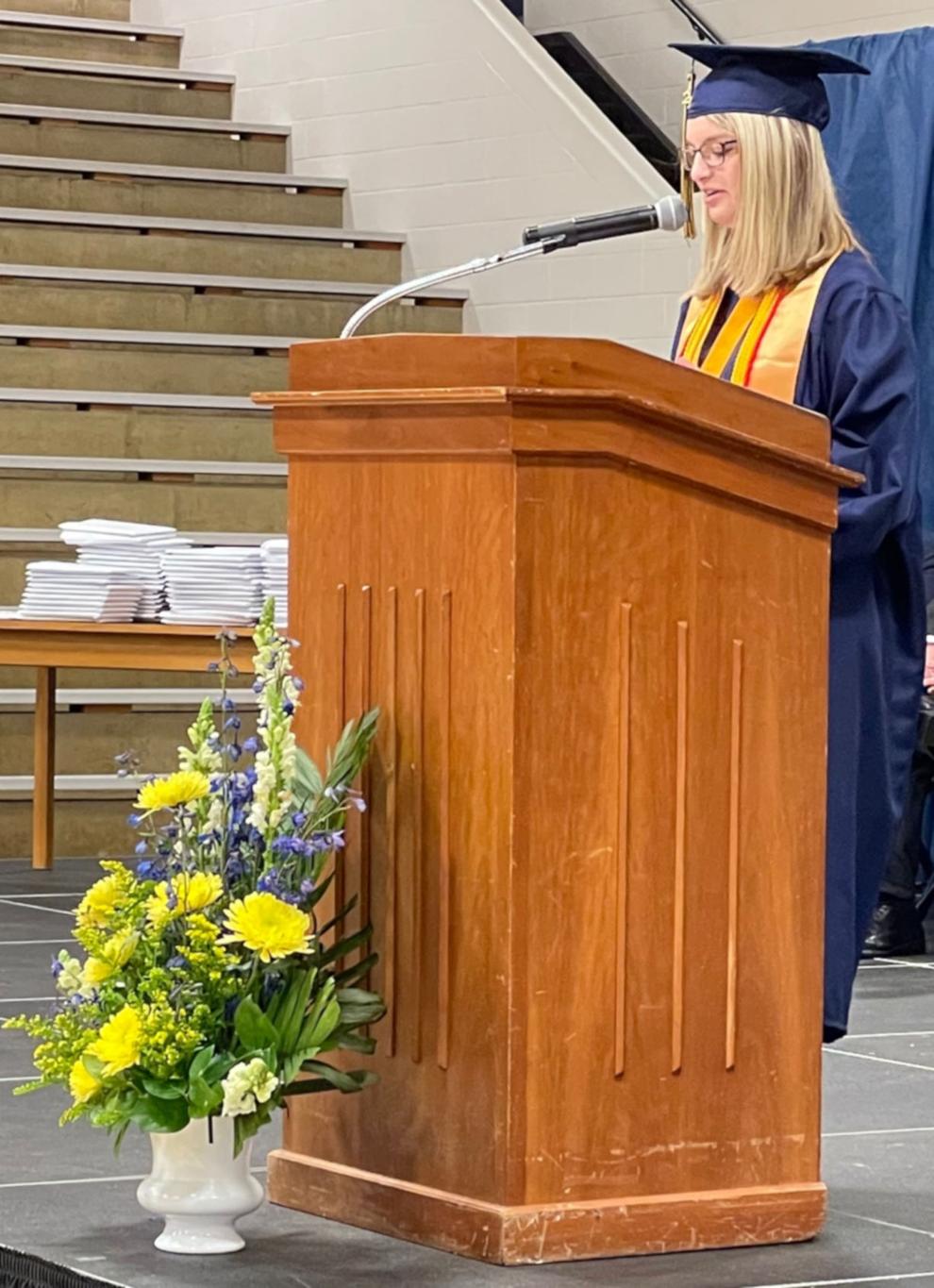 Both salutatorian Allison King and valedictorian Lauren Taylor made references to the pandemic-altering lifestyles faced by the Class of 2021.
"We have been through many changes in the past year and I am beyond proud that we all made it," King said.
Taylor talked about the abrupt transition of "going to lunch sitting at a table with 12 other people in a full cafeteria" to the isolation of online classes. In her speech, which generated spontaneous applause more than once, Taylor cited star athletes, school record-breakers and academic overachievers who made up the Class of 2021. She also thanked "incredibly dedicated teachers."
As they walked across the stage, school media specialist Colette Huxford Kinnett read a line of thanks written by each graduate. In a day of inspiration, perhaps the moment that moved people most was when McKayla Myers rose from her wheelchair and walked across the stage to receive her diploma.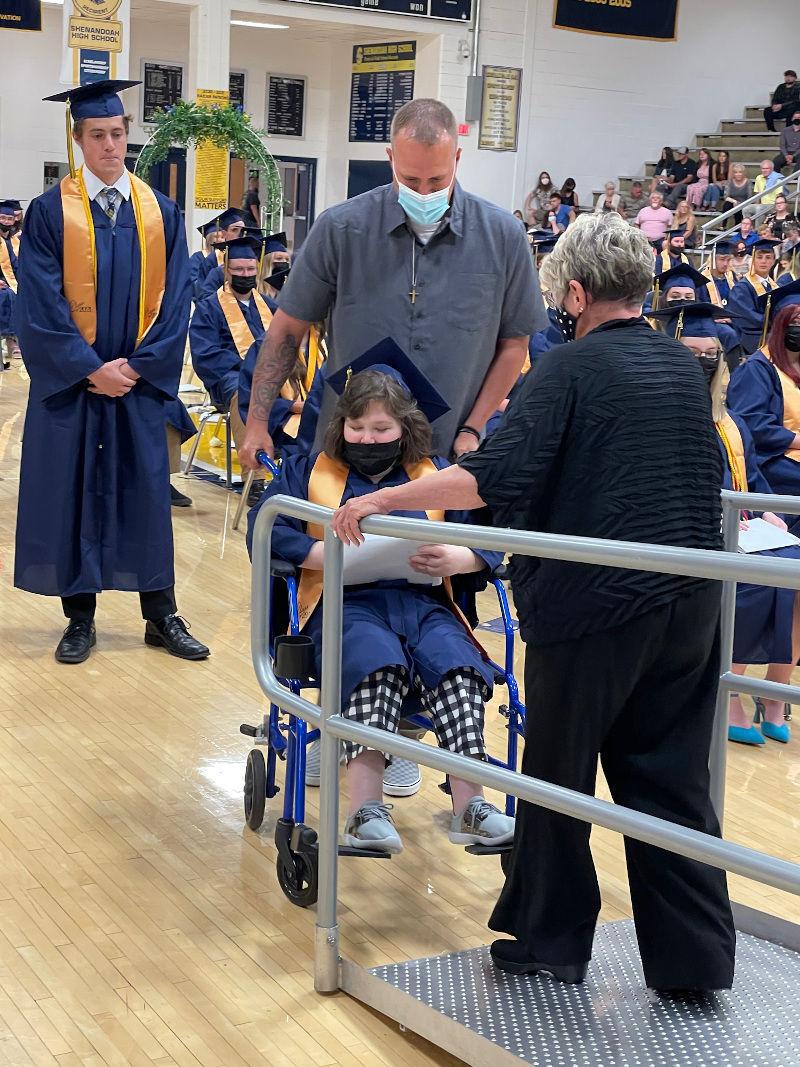 Myers, who has overcome multiple physical challenges and worked diligently to earn her diploma, said she was "beyond thankful for grandparent support all through school." As things turned out, she was able to graduate with her younger brother, Stephen Myers.
Meanwhile, Danielle Pugsley thanked her mom, Anna, "for being the one she could always count on."
The attitude of gratitude was something Principal Allen encouraged graduates to take with them as they leave Shenandoah High School.
"This is most likely the last time all of you will ever be together in one room," Allen said. "I encourage you take the time and express to each what their friendship has meant to you and what you admire about them."
Life lessons came packed in Allen's short but inspiring speech.
On the back of the Shenandoah graduation program were the words "Forever in our hearts." Below them were the names of Kaytlyn Hampton and Aiden Ayres. Hampton died from injuries received Sept. 24, 2018. Ayres died unexpectedly Jan. 27, 2019.
"Life is precious, not to be wasted," Allen said.
He encouraged the graduates to be patient more and complain less. Family should be cherished. It is better to admit mistakes than play the blame game. Above all, he challenged the students to remember that life is "10 percent of what happens to you and 90 percent of how you deal with it."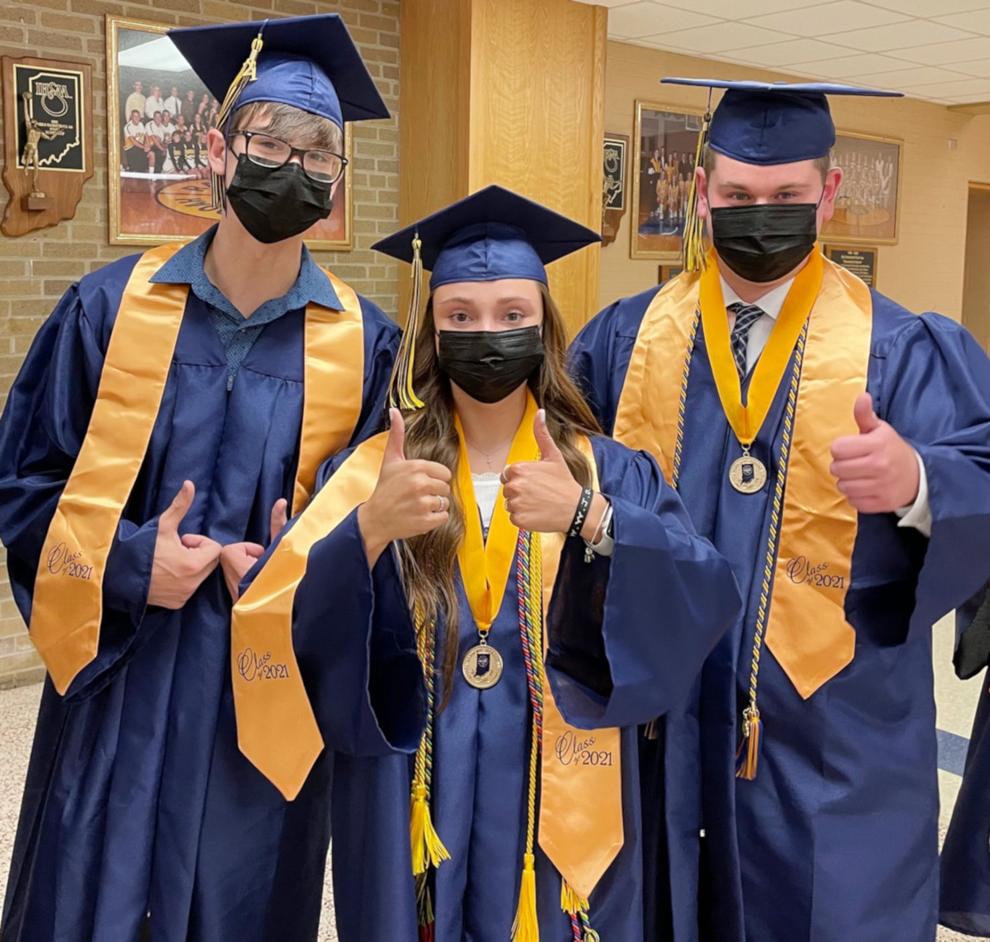 And, believe it or not, he said, many in cap and gown would be trading places with parents and grandparents before they know it, watching their own son, daughter, grandson or granddaughter graduate.
"Some day," Allen concluded, "when you are parents, you will see the awesome responsibility and the joy they have experienced. Believe me, when you hold your children for the first time, all of your parents' and grandparents' lessons come flooding back to you."