A Muncie man is facing multiple felony charges after allegedly leading police on a multi-county high speed chase through Henry County Thursday afternoon.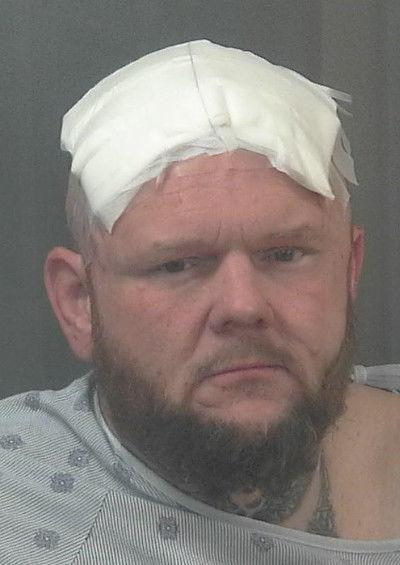 According to New Castle Police Dept., a 911 call came in around 2:15 p.m. that a reportedly stolen truck was seen driving north on State Road 3 from Spiceland to New Castle.
Dispatch told NCPD that the truck, a white Ford F-350 Super Duty dually pickup, and license plate number matched a stolen vehicle report out of Muncie.
New Castle officers caught up with the truck at County Road 400 S and SR 3. Officers reported the driver, later identified as Robert Lee Wilson, 45 of Muncie, "pulled over for a brief moment, and thensuddenly pulled away from our police cars at a high rate of speed."
Two New Castle police vehicles followed Wilson with lights and sirens. According to reports, the truck reached at least 100 mph while continuing north on SR 3.
The truck then turned east onto Riley Road, at the same time Riley Elementary School was releasing students and parents where lined up to pick up their children.
Reports state Wilson reached speeds of 80 mph, crossed the center line and ran the school stop sign.
Police continued to follow Wilson as he repeatedly headed south and took county roads until he reached U.S. Hwy 40.
Wilson turned west onto US 40. NCPD reported that on three separate occasions and at three different locations, Wilson allegedly traveled west in the eastbound lanes of US 40 at speeds reaching 100 mph, "recklessly creating significant risk of danger to innocent human life."
Officers stated Wilson also drove through private fields and property. Police vehicles were damaged during the pursuit, as well.
The vehicle pursuit ended when Wilson wrecked the truck at North Goose Road and Old Trail Road in Rush County.
Immediately after wrecking the truck, Wilson reportedly fled on foot from towards a barn. New Castle officers stated Wilson refused to stop when ordered. He slipped in the mud and was apprehended on the south side of the barn, according to the report.
Wilson reportedly resisted and fought the New Castle and Knightstown officers trying to take him into custody. The NCPD officer reported using his department-issued Taser but was unable to get control of Wilson.
"Wilson kept placing his hands beneath him and in the vicinity of his waistband which I know from my training and experience is a common place to keep weapons," the New Castle officer reported. "Aware of the immediate potential danger officers were placed in by Wilson, I used the force necessary to detain Wilson."
Once Wilson was handcuffed, police called medics to the scene to check on him.
Wilson was taken to the Henry County Hospital by EMS to be cleared for incarceration. While at the hospital, he reportedly told doctors that during the pursuit he want airborne and hit his head hard against the roof and dash of the truck. Doctors treated him for head and neck injuries.
After being medically cleared, Wilson was arrested and transported to the Henry County Jail.
Investigators reported finding two catalytic converters in the back seat of the pickup truck that appeared to have been cut off of other vehicles. A reciprocating saw was reportedly found in the front seat, as well. According to New Castle police, Wilson was reportedly suspected in the theft of a catalytic converter in Madison County.
Wilson was arrested on preliminary charges of Level 6 felonies resisting law enforcement with a motor vehicle, criminal recklessness with a deadly weapon, theft of auto component parts and theft of a motor vehicle and Class A misdemeanor operating a vehicle without insurance with prior conviction
According to court documents, Wilson had been arrested March 10 in Muncie for allegedly receiving stolen property.
In that case, Wilson allegedly had license plates from stolen vehicles in the bed of his truck when Muncie police followed a tip that he may have been involved with stealing a Jeep Wrangler earlier that day.
Wilson did not appear for his initial hearing on April 26 in Delaware Circuit Court 4, and the court filed a request for warrant.