What do Texas Instruments, Ernst & Young, Boston Chicken, Papa John's and Panera Bread have in common? A 1974 New Castle Chrysler High School graduate named Blaine Hurst.
Hurst has made his mark with all of those high profile companies during an impressive business career. He is one of three New Castle graduates to be honored this weekend as "Distinguished Alumni."
Distinguished alumni will be honored at the Principal's Luncheon 11 a.m. Friday at the First Baptist Church. A homecoming parade is scheduled 10 a.m. Saturday in downtown New Castle. A complete list of homecoming activities can be found on the New Castle Alumni Facebook Page.
The former chief executive officer (retired, and now vice chairman) of Panera Bread who grew up in New Castle is not doing what he thought he would when he headed to Indiana University in the fall of 1974.
By the time he entered Chrysler High School, Hurst had decided to pursue acting and music. He played George Antrobus, a lead role in school's production of Thornton Wilder's "The Skin of Our Teeth," and the sousaphone in the Trojan Marching Band, as well as performed in local theatre.
As he headed down Ind. 37 to IU, Hurst was set on a career in the arts.
"About a year into it, though, I realized a couple of things," he recalled. "You had to be really good to make it in the business – and you had to be really lucky."
Hurst said he figured he was neither that good nor that lucky, especially as IU and Julliard were the top two schools for music study. So he headed back north to his mother, Ruth, and younger brother, Blake, and enrolled in class at IU East in Richmond.
Then Hurst headed back to Bloomington for two years, staying the summer to finish his studies as he dedicated himself to succeeding. From that time forward, he finished with A's or A-pluses in every class as he earned a computer science degree.
His decision to shelve acting and music quite literally set the stage for a business career as long-running as anything on Broadway.
First was Texas Instruments in Dallas, where he worked on government electronics and managed a software development team with his roommate. It was in adding staff to their team that he met his future wife.
"We recruited Becky from her college, Grove City (Pennsylvania)," he said. While Becky reported to Hurst's partner, they worked closely together.
At Texas Instruments, Hurst was involved with projects such as the M1 Abrams Tank, the main battle tank of the US Army and Marine Corps, as well as the Harpoon, an anti-ship missile.
Among his next ventures included consulting with Arthur Young (later Ernst & Young). While there, Blaine founded and led the Center for Information Technology Planning and Delivery, Ernst & Young's facility for building software and data modeling among several related processes. The project became the Navigator Systems Series and was "the engagement Bible" for Ernst & Young for several years.
And it was adopted by many companies around the world.
Hurst left the firm in 1991, making his entrance into the food industry after being recruited by Boston Chicken to be vice president for Information Services. Then in 1995, his career took him to Louisville and Papa John's, where he established the company's information systems functions. After a year, he became president and then vice chairman during which time the company grew from approximately 400 restaurants to 3,000.
Hurst learned that few of the company's restaurants utilized technology, relying on lots of paperwork. His team's job was to put technology in the balance of the eateries.
"We put up monitors on the walls, put in basic order-taking systems, and created labeling using barcode printers (now found on every pizza box)," he said.
In 1997, Hurst met individuals who developed an online ordering system for pizza. By the next year, Papa John's rolled it out across the country.
"We were the first restaurant – maybe the first retailer – to have on-line ordering technology throughout the company," he said.
And, as he pointed out, this was before broadband was available nationwide. So Hurst and his team built modem banks, using dial-up to communicate orders to the local Papa John's, determine how long the order would take and communicate that back to the customer.
"That was before anyone else had done it," he reiterated.
Ironically, it was former Milwaukee Bucks basketball player Junior Bridgeman who got Hurst involved with Panera Bread. If his name sounds familiar, Bridgeman played for East Chicago Washington in the 1971 IHSAA finals against Elkhart (which defeated the New Castle Trojans in the semifinals).
Over lunch, Bridgeman told Hurst that they should "do a deal together" and suggested the two friends become Panera franchisees.
"We never became franchisees," Hurst recalled. Panera did, however, invite Hurst to be a consultant. He joined the company in late 2010.
His task was "to redesign the guest experience using technology," a concept that already was on Hurst's personal menu.
"Part of my 'schtick' my entire life has been trying to find better ways of doing things," he said. "And honestly, throughout my life, I just wanted to do the job. I never worried about what I was going to get paid."
Hurst rolled up his sleeves and went to work on transforming Panera's guest experience, which he said consumed his life for a long time. Along with tackling product delivery, he added Panera's catering to the job list.
Next came expanding Panera's loyalty program, which became the largest in the restaurant industry – larger than Starbuck's. "That was a smile moment," said Hurst.
In mid-2017, Panera announced it was going private and finished the process that July.
At the start of 2018, Hurst became CEO, stepping down in mid-2019 to be vice chairman. He remains engaged as an advisor.
Run the Race with Joy
Inspired by his grandparents, Blaine Hurst has a very strong desire to help others. "I don't know how to be any different."
In addition, Blaine says his son has been one of his greatest influences.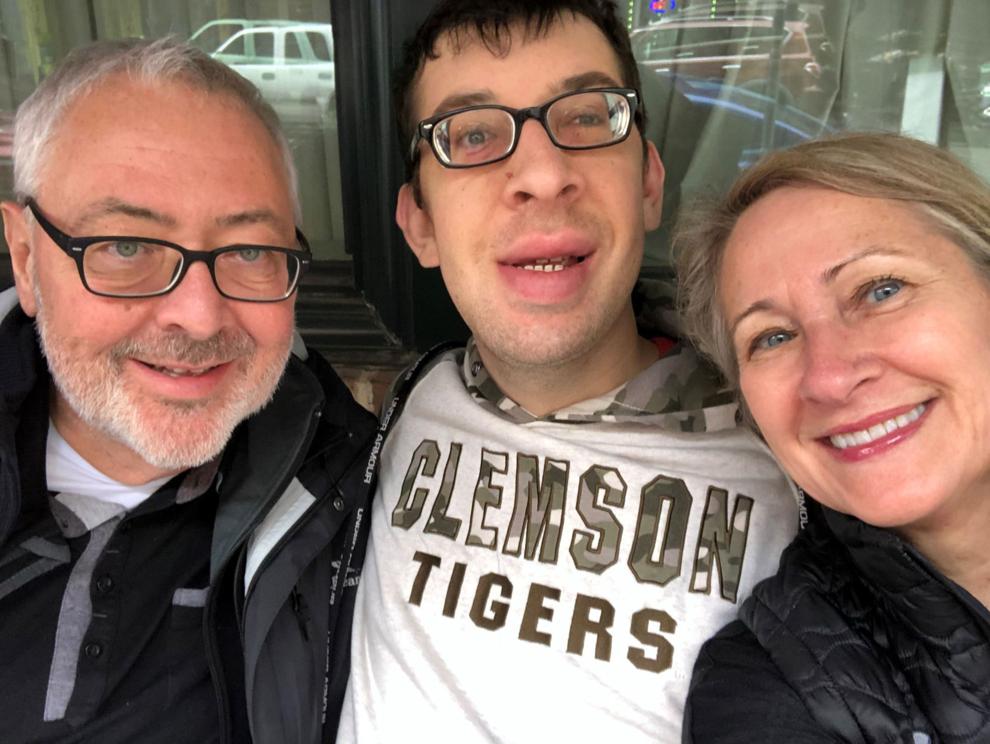 David was born with special challenges, including being intellectually disabled and lacking many motor skills.
"But he works, he snow skis, and he is an amazing young man," shared Blaine. "He was the greatest gift Minnesota gave us."
And David was the inspiration for "Run the Race with Joy," a signature line Blaine has at the bottom of every email he sends.
David was manager for two of high school athletics teams. "But he wanted to participate," recalled Blaine. So the football coach, who also coached cross country, told Blaine that David could run.
Six weeks later, Becky called Blaine to tell him that David had finished his first race. As he got to the 2-mile mark, his teammates, all of whom had finished, turned around to bring David home. "He was so excited," recalled Blaine.
A while later, Becky told Blaine that David wanted to run at the regional competition.
His coach gave him the nod. Blaine, however, was not quite so sure.
David's best time for the season was approximately 45:30. Top runners finish in about 22 to 25 minutes for the woods course. But he ran anyway.
"So they all take off, heading into the woods," Blaine recalled, with David halfway across the field leading to the trees.
Blaine and Becky went to the finish line to wait for David. Meanwhile, the other runners finished, dismantling of the finish area began, and spectators started leaving.
Then the volunteers started reassembling the finish structure. The other runners and crowd gathered to wait for David.
"About 20 minutes later," said Blaine, "David appears and heads to the finish. Loud cheers go out from teammates, other runners and everyone else."
"You could SEE the smile on his face," recalled Blaine.
"I walked up to the Gator driver – tears running down my face – and said, 'Thank you. I appreciate your staying with him.'"
The official responded, "No. Thank YOU. I saw your son run, stumble and fall, and always he got up with a smile on his face. He smiled at everyone on the course. Your son ran the race with joy."
Thus the words at the bottom of Blaine's emails.
"So often in life we get sad, we get beaten down, we lose hope, we think that what we're doing isn't going to work. The truth is it may not," reflected Blaine Hurst. "But if you run that race with joy, you don't know what impact that will have on others."