New Castle Career Center welcomed their newest classes of students Tuesday into the National Technical Honor Society with two ceremonies in the Fieldhouse, one for the morning students and one for the afternoon crew.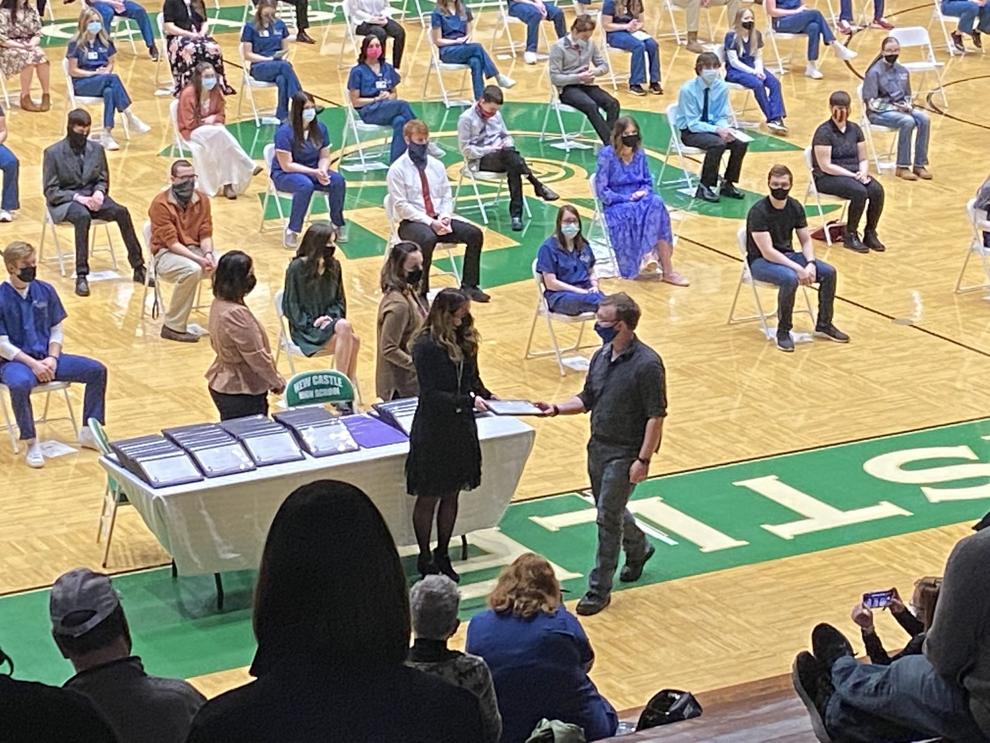 The National Technical Honor Society is an honor society started in 1984 for outstanding career and technical students of workforce vocational education institutions.
Second-year NCCC students inducted into the NTHS this year are: (AM schedule) Savannah Antrim, Emma Claar, Rylee Crowe, Noah Cupp, Abby Engle, Daliya Guffey, Abigail Harris, Emma Harris, Ronni Johnson, Nathan Jones-Davis, Brylee Kanouse, Kensie Linton, Miles Mann, Mary Makayla Matanich, Makynna Matanich, Briar Secrest, Emma Walls; (PM schedule) Emily Adams, Logan Beard, Kyndel DeWeese, Caitlin Lorton, Wade Pate, Madison Poe, Kortney Ridge, Hallie Sawyer, Jordan Scruggs, Koby Sellner, Darla Tinch, Amari Welcome, Rylee Whited.
Juniors inducted into the NTHS this year are: (AM) Braydon Adams, Alexia Armstrong, Sydni Bednarski, Christian Blevins, Nathaniel Cape, Saige Chandler, Cayla Claar, Abigail Cowan, Molly Cupp, Mya Edwards, Lucas Elliott, Leigh Ferrell, Gracin Jessup, Kareline Jones, Lucas Koedyker, Alexandra Lawson, Ella Moffett, Brett Montgomery, Noah Neuman, Noah Phelps, Paige Pierce, Owen Renie, Wyatt Sharp, Brandy Smith, Isaac Smith, Cassandra Stroud, Audrey Tice; (PM) Taylee Adkins, Addison Alfrey, Ava Bell, Emma Blackburn, Rylan Blessinger, Noah Broyles, Danielle Bryant, Brianna Cash, Brooke Conover, Leslie Conover, Cassidy Cooney, Karlie Cooper, Daniel Craft, Logan Doyle, McKynna Ellis, Dylan Fowler, Megan Fritts, Avery Gibson, Erica Glunt, Brody Goode, Madelynn Grover, Michaela Hamby, Aidan Harris, Ashtyn Harvey, Ryan Hill, Benjamin Jacobs, Jamie Kernel, Dylan Lykens, Allyson Madden, Maddy Meek, Taylor Pass, Zoey Pierce, Darcy Presley, Connor Pyle, Lauren Retherford, Kalyn Roman-Tyler, Alexis Rudloff, Mackenzie Steele, Konnor Strange, Luke Thomas, Calyb Toffolo, Jaime Tully, Samantha Webb, Jenna Willis, Allison Wissler, Hannah Zody, Jordan Zody.
Seniors inducted into the NTHS this year are: (AM) Benjamin Acra, Violet Alexander, Hailie Asher, Brooklyn Brantlinger, Naomi Brewer, Mackenzie Bridgeman, Katherine Brown, Victoria Brown, Mallory Cross, Miulin Dupart, Champ Ellis, Conner Zade Ford, Kyndal Forsberg, Jillian Fox, Madison French, Daryl Frith, Karlie Gaylord, Angelina Grasse, David Gwinn, Toby Harman, Justin Hummel, Delanie Janes, Rachel Jessup, Haylie Johnson, Wyatt Lowder, Chloe McCarty, Macayla McGowan, Gatlin McKinney, Bailey Melton, Evan Murphy, Kennedy Peggs, Piper Pennington, Floyd Pinkston III, Kendal Pruett, Alyssa Scott, Lynzi Siglin, Mackenzie Snyder, Abigail Thornburgh, Nikolas Uhler, Samantha Ward, Alexis Whitinger, Nicole Wilkinson, Gage Wilson, Lucas Witham, Isabella Witte; (PM) Marley Bartrom, Clara Brown, Abigail Byers, Emma Cole, Jack Criswell, Meghan Dale, Heather Eales, Kyley Farmer, Zackery Gedek, Zachary Grever, Shelby Groves, Howard Hobson, Kaylin Hoover, Kaylyn Joyce, Caleb Lovvorn, Jessica Mercer, Makayla Morris, Benjamin Newby, Rachel Painter, Sydney Rector, Taylor Rector, Ryan Scott, Brynn Tower, Emma Waggoner.