After 20 years, the United States' mission in Afghanistan is over.
New Castle graduate Chris Lawson was there to see it happen.
Lawson and the other members of the multi-national Strategic Airlift Capability (SAC) helped get Afghans out of the country before the Taliban re-took control in late August.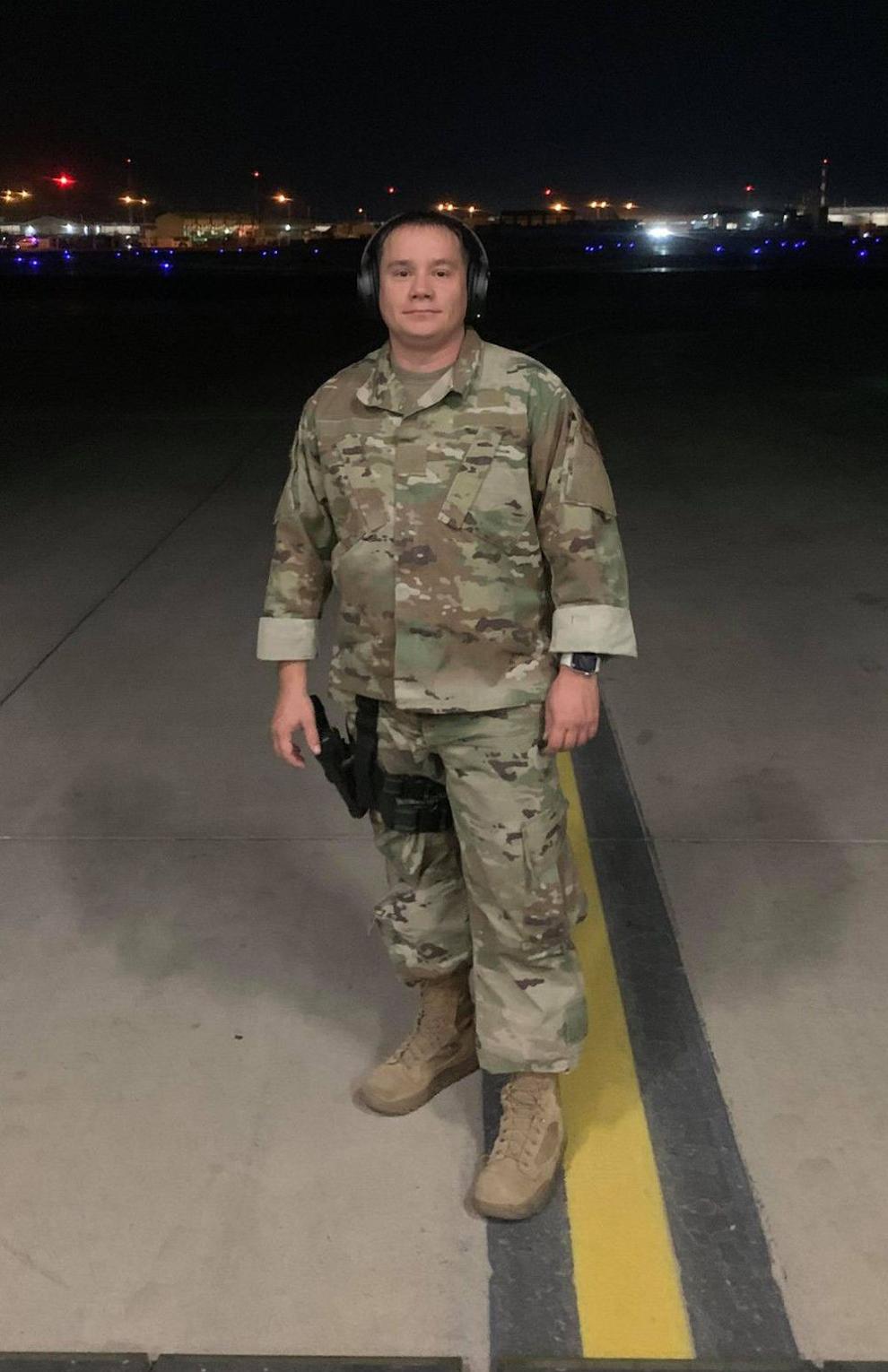 "We were there to evacuate people," Lawson said. "I was so happy to be part of a mission helping those men, women and children that had sacrificed their life to help the U.S. government and its allies during the 20 year campaign. Some of them had already lost loved ones in the war.
"We know the history of Taliban when it comes to their treatment of women," he continued, "so knowing we are able to bring those women and children to safety and to give them an opportunity for better life feels so good."
Part of a larger team
Lawson moved to New Castle in 1988 and graduated from New Castle Chrysler High School in 1993.
Today, he is an Air Force Technical Sergeant (TSgt). His job in the Air Force is as an Independent Medical Technician (IDMT).
"We are made up of seven career fields," he explained. "We are enlisted providers so we can treat, diagnose and prescribe meds to military members. We also are trained in lab, pharmacy, public health, bio (hazard), dental, medical admin and immunizations."
He was previously part of a recover team with the Defense POW/MIA Accounting Agency (DPAA) in Laos. Their mission was to search for two fallen American pilots from the Vietnam War.
Lawson has been stationed out of Pápa, Hungary, the air base of Strategic Airlift Capability (SAC), for the last six months.
SAC is made up of 12 countries: the United States, Hungary, Bulgaria, Estonia, Lithuania, the Netherlands, Norway, Poland, Romania and Slovenia, along with NATO Partnership for Peace (PfP) nations Finland and Sweden.
In very simple terms, SAC is sort of co-op between those member-nations. The "co-op" formed in 2008 and owns three C-17 planes that allows the member-nations to share military airlift capabilities, whether by delivering equipment and supplies or respond to humanitarian crises.
Lawson's unit, the Heavy Airlift Wing (HAW), operates that C-17 fleet. According to SAC, it is the only multinational C-17 wing in the world.
"My role was to provide medical coverage to our aircrew and passengers as needed," he said.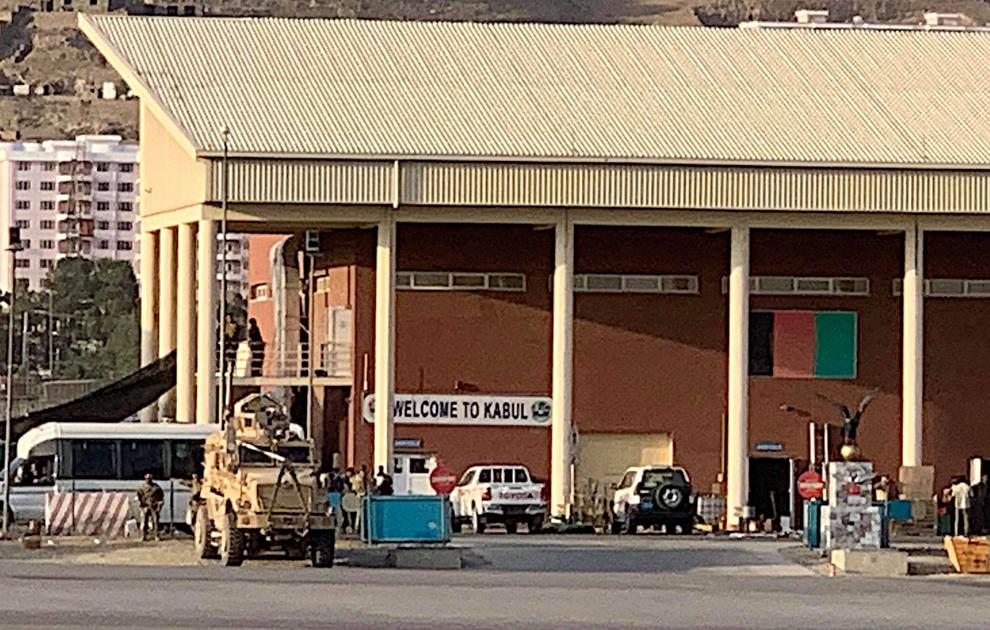 In late August, as the U.S. military was leaving Afghanistan, the HAW's mission changed.
Leaving Afghanistan
"Our job was to evacuate anyone that was a citizen of one of those 12 nations, to include us personnel, going to one of the 11 other countries," Lawson explained. "We were based out of the country of Georgia with multiple flights in and out of Kabul. We would pick the people up in Kabul and then they would stay in Georgia until they could be flown by civilian air to their final destination. Each day was different, we never knew exactly how many passengers we were picking up."

While his family watched video feeds on TV and online of the evacuation and pull out of American troops, Lawson was part of the team on the airfield and in the sky.
"We would load up and prepare to load the plane as full as possible," he told The Courier-Times. "Once in Kabul, we would work with a sponsor on the ground to help coordinate our passengers, often it was 15-18 hour days."
"It was amazing," Lawson said. "Next to the DPAA mission in Laos, sleeping on the Ho Chi Minh Trail, this was probably the most rewarding time of my 29 year career."
They received daily updates on local threat. He said during night missions, you could always see tracers over head or possibly flash bangs in the distance.
"For me, I have always understood our job comes with an unknown threat level that can be elevated at any moment, but (our job) is to protect others, which makes it all the more worthwhile," Lawson said.
Airport attacked
The HAW team was in full operation on Aug. 26 when multiple suicide attacks rocked the Kabul International Airport, killing 13 U.S. service members and hundreds of Afghans trying to flee the country. A New York Times story published the day before the attacks warned that "a sworn enemy of both the Taliban and the United States – the Islamic State Khorasan (ISIS-K) – had threatened a large-scale attack against the mission at the Kabul airport.
"We were on the ground when the attacks happened," Lawson said.
Lawson had worked at the Bagram Air Base in Afghanistan back in 2005, so he was familiar with the alarm sirens sounding.
"We had to count each individual boarding the plane," he said. "When the first siren went off, we felt like we probably had time to finishing the count. When we heard the second siren, we knew it was serious, and by the third alarm, we were all in the plane waiting for them to open the runway for us to take off.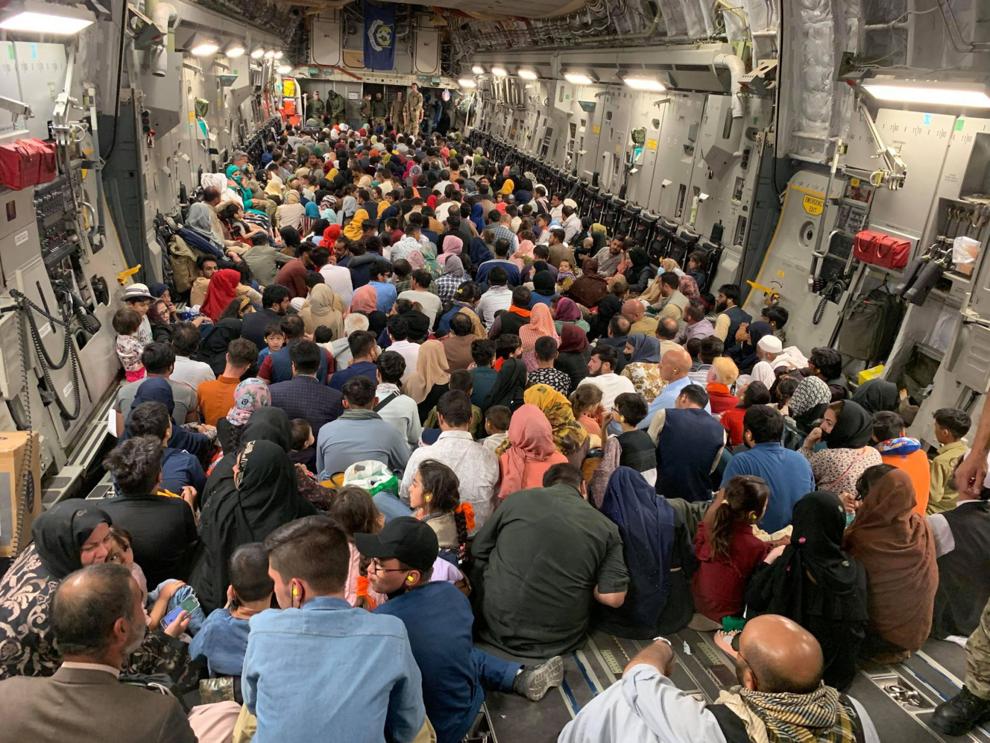 "It was very scary. We're sitting on the runway in a plane (which felt like a trap) for a long time, hoping we were safe," Lawson said. "A couple of our military passengers had seen the devastation as they ran to our plane."
It reminded Lawson of two events he experienced while stationed in Hawaii: In 2018, a false alarm alert came across the emergency system claiming that a missile was headed to the island; two years later, there was an active shooter at the Pearl Harbor shipyard.
"It was very much a sense of helplessness at the time and uncertainty," he said, of sitting on the Kabul airfield in the plane filled with Afghan refugees and SAC personnel.
Back home, some of Lawson's family, including his wife, Rebecca, knew he was on a mission that day. Many of them had seen the breaking news of the blasts at the airport and were waiting to hear some news from him.
"I always made it a point to call my wife after and before every mission so she knew I was safe," Lawson said. 'That was a much longer night, and I know it was hard for her, as well, waiting to hear from me."
Lawson and the people on his plane ultimately made it out of the country safely. He is back at SAC air base now and proud of what they accomplished in Kabul, even as the government situation unfolds.
"I do not think people will fully understand for years to come the impact of all of the hard work that many women and men, service members and civilians put in during this evacuation, but we can all feel better that we directly impacted lives today and for many years to come," he said. "This was a great effort across the board. It was not perfect, nor flawless, but we would have been naive to think it could or would be."