New Castle High School's show choir, Red Hot Blues, was riding a hot streak in the 2020 competition season, poised to place in the top three in the state – then the season ended very suddenly due to the COVID-19 shut down, with no opportunity to see the season through to the state competition.
The group unceremoniously bid virtual goodbyes to a large and strong class of Seniors, looking ahead to the 2020-2021 season with a burdensome air of uncertainty. As the directorial team of Matthew Hurst, Alyssa Poticha, Caitlin Lammers, Katy Stevenson, Elijah Tyner, and Judy Hubbard attempted to plan for a another season that might never see the stage, there were considerations of repeating the 2020 competition show, Out of the Ashes, in hopes that the state competition would happen in 2021.
In the end, however, the team chose to step out boldly and develop a brand new competition show for the 2021 season.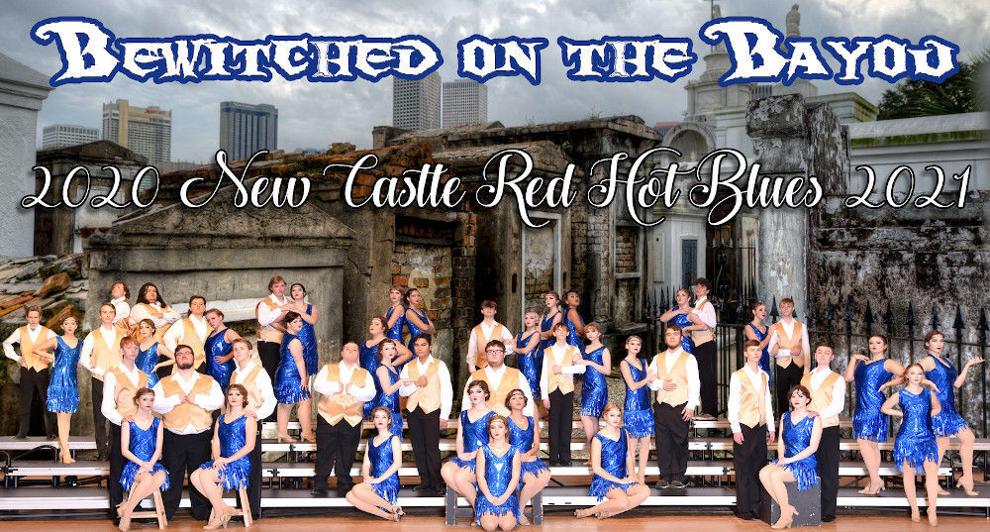 The resulting show, Bewitched on the Bayou, brought to life on the stage a story of sorcery and New Orleans in its heyday, combining music from popular Disney classics, '80s dance hits, Rock'n'Roll standards, and popular power ballads.
When extra-curricular groups first had permission to begin working again, RHB began working through the show safely and slowly – and completely backward from how the group typically learns a show. Early rehearsals were reserved for socially-distanced vocals only practices, then progressed to learning the dance numbers without partner work, allowing for distance to be maintained. All the work was done in masks, and hand-sanitizer flowed freely during choreography rehearsals. Students were often quarantined due to exposure in other areas and would faithfully join rehearsals virtually in order to keep up with the fast pace of teaching. Through it all, the students in RHB chose positivity and, for the first time in several years, had their show completely learned before school broke for the holidays.
The hard work paid off when competition season began. While some competitions on the docket ended up ultimately being scrapped due to the administrative decisions of different districts and the prevalence of COVID-19 in certain areas, RHB was still able to present their show at four competitions this season, bringing home consistent high honors, including two first runner-up trophies and one grand championship.
The students viewed each competition as an opportunity to succeed, maybe evening more so than in a typical season, as ISSMA announced in November that there would be no state competition again for the 2021 season. Out of the combined 16 schools RHB competed against throughout the season, only four placed above RHB's unique show.
The directorial team is thrilled with the results of this season, not only from a competition standpoint, but from a personhood standpoint. While some schools chose to re-use past music this season and reduce their workload and financial investment, New Castle's students were on board and excited to put all the work into something brand new, despite having no promise that anyone would see it.
What these students learned this year about perseverance, work for the sake of personal growth, and resilience in the face of uncertainly cannot be awarded with a trophy, but still deserves significant recognition.
Spring Sing is on!
The community is welcome to support RHB and all the rest of New Castle High School and Middle School Choirs during Spring Sing, the final concert that will round out the 2020-2021 school year.
Performances will be at 7 p.m. Thursday, May 13 and Friday, May 14 at Bundy Auditorium. Tickets are $7 for adults and $5 for students and go on sale Monday May 3. Advance reservations are recommended, but tickets will be available at the door.
Call the Chris Jolley in the high school office at (765) 593-6675 or Mrs. Wilkinson at the middle school at (765) 521-7230 to reserve tickets.