The Fieldhouse pine was alive with cheers and (happy) tears Sunday afternoon as friends, family and classmates snapped selfies with their grad and took live streams for their socials.
The graduating seniors were back on the Fieldhouse floor this year after 2020 called for an abbreviated ceremony.
The Trojans made it through a pandemic and everything else last year served up and were a part of the sea of green that flowed to the gym floor Sunday.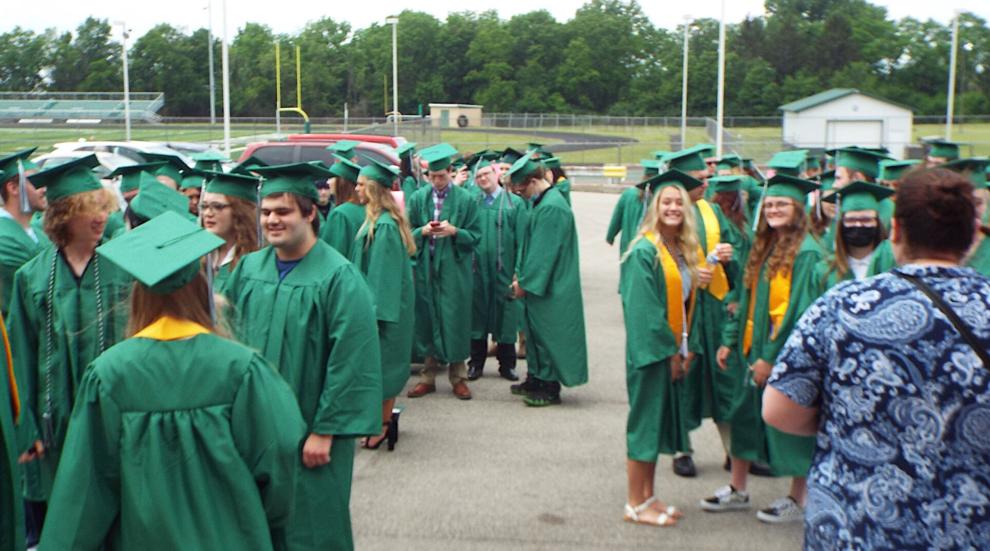 It was a celebration of the class's motto: "Prevailing through adversity."
Caleb Supinger turned to Google to help him figure out how to write his graduation speech. Google told him to write about his memories.
"As I think about graduation, I think about how it's its own sort of starting over," Supinger said. "Not from the ground up but definitely a new beginning. After all, that is what 'commencement' means: a beginning ... according to Google."
Supinger spent much of his high school career starting over on art projects and speeches. Like the one he gave Sunday afternoon.
"Just because we start over doesn't mean that we have to throw out everything from the past," he said. "I actually had to analyze the themes that were persisting throughout the rough drafts to make this speech. And though I had to start from the beginning, I still had those rough drafts to pull ideas from.
"What I'm trying to say is, when things get harder – and they have been hard in the past – don't give up," Supinger told his fellow grads.
He wrapped up with a quote from Dreamworks founder Jeffrey Kratzenberg: "'We shouldn't be fearful of starting over.'"
Seniors in the green gowns then took their places in the choir and band for the final time as the Trojans performed "Battle Hymn of the Republic."
As the applause died down, speaker Anastasia Taylor took the stage at half-court.
Although Taylor used to spend quiet moments delivering graduation speeches in her head, she never actually thought she'd be one of the key speakers. After much reflection and one scrapped draft, she figured it out.
"I think of this speech more as a eulogy or an ode than anything," she said. "All us students are here to mourn the death of our high school careers.
"Yes, this is the end of this part of my life. But I'm still at the beginning of it. And so is the rest of my class," Taylor said. "If anything, I'd say we're at Chapter 3."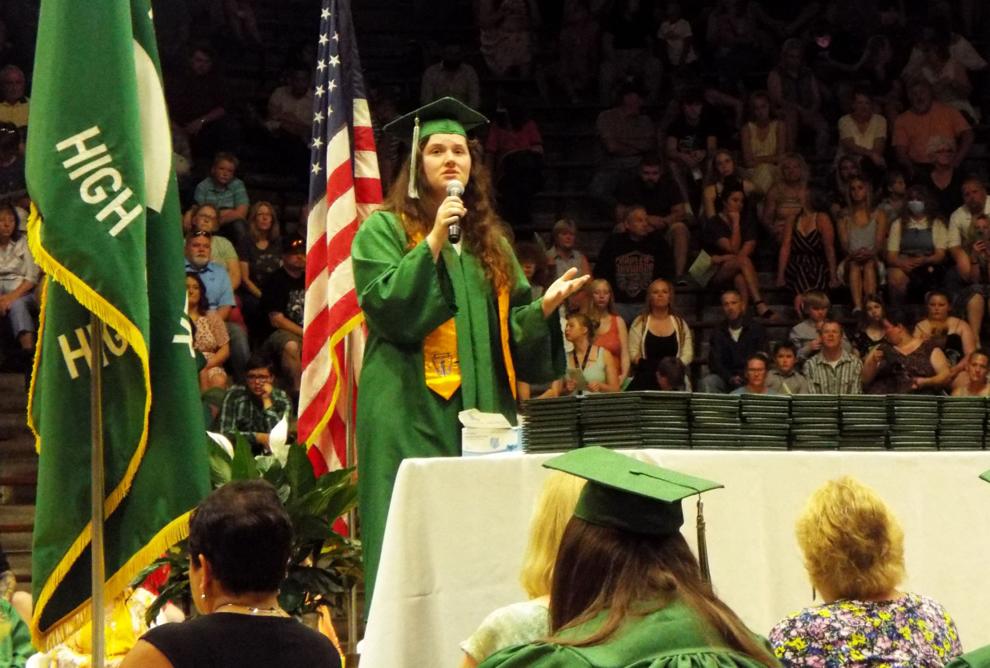 Chapter 1 was their childhoods. Chapter 2 was getting to know the characters in their stories. The next chapter is where they will realize a purpose the young women and men will realize a purpose they may not yet even fully believe in, Taylor said.
She hopes Chapter 4 will show the changes they made in the lives of other people around them.
Class President Grayson Joslin said the spirit of the his class exemplified their motto of prevailing through adversity.
"The Class of 2021 is a wildly talented collective of students who have positively made their mark on New Castle High School and will positively make their mark on all of mankind," Joslin said.