Lee Marcum remembers rooting for the NBA's Indiana Pacers when he was growing up. Today, much to his amazement, he sees players getting on the team plane carrying bags of his company's product – Jack's Donuts.
Becoming a partner for the Pacers is just one of many pinch-me-to-be-sure- this-is-real moments for Marcum, as the New Castle business grows into big-time market territory.
"It still blows my mind," Lee said.
Realizing how far Jack's Donuts has come was quite literally the icing on the cake of a 60th birthday celebration Thursday. With new generations of the family faithfully carrying on for Jack and Ada Marcum, no birthday candle wish seemed necessary to ensure the "and many more" part of the song.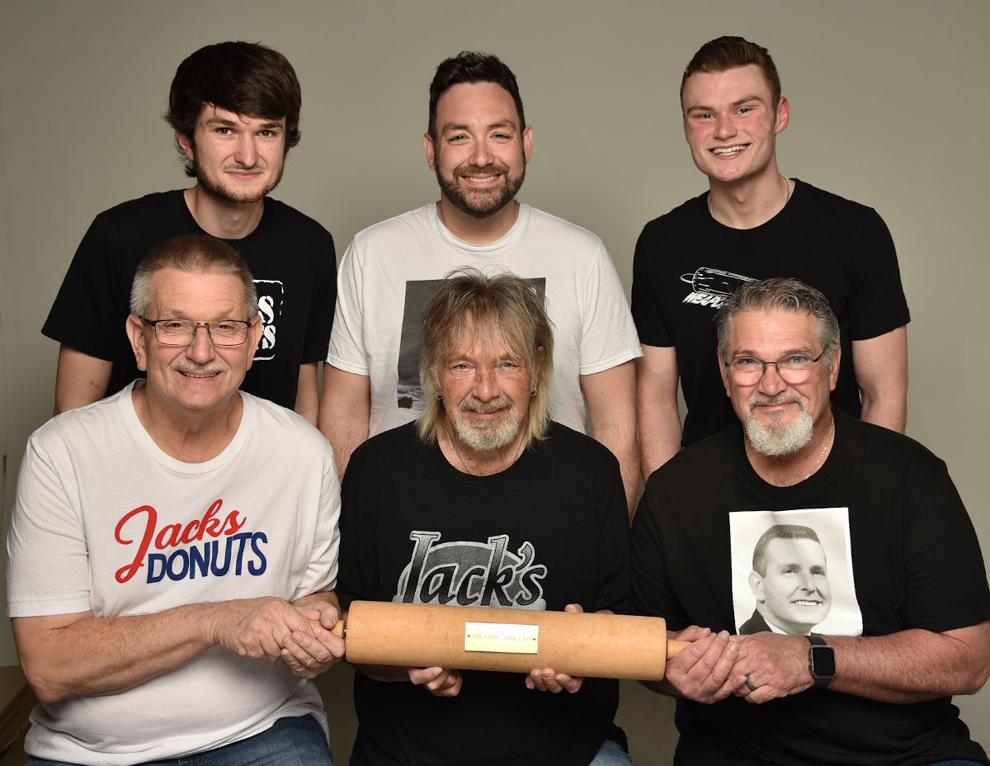 "It's nuts to see how we've grown in the Indy market," Lee said. "Six years ago, nobody there knew who Jack's Donuts was. Two years ago, everybody knew who we were."
Myles Turner, the shot-blocking power forward for the Pacers, knows.
"I was at the Snakepit Ball, which is an ultra-VIP event at the Indiana Roof Ballroom, a few years ago," Lee remembered. "Myles Turner was there. He came up to me and said 'man, I love your donuts.'"
A well-known evening television co-anchor of WTHR's daily newscasts, knows too.
"Anne Marie Tiernon of Channel 13 tweeted she was at Jack's Donuts in Fishers and how much she just loved the donuts," Lee said. "That one tweet did so much for us."
Today, the little donut shop that could has risen like dough in an oven and is now available in 25 stores beyond New Castle.
"We're growing," Lee said. "Within the next month or so, we're coming back to Muncie again in the Village at Ball State. By the end of the year we have one in Richmond opening up. We're working on some stuff in Florida right now, the Sarasota area."
Doing the (almost) impossible
How busy is Jack's? Well, consider that annually, Jack's Donuts uses:
595,000 pounds of sugar for icings and glazes; and
7,200 pounds of shortening to fry Jack's Donuts; and
Other "fun facts about Jacks" include the most popular items, which are:
Coffee Roast- House Blend
Signature Drink- Tiger Tail Mocha
Lee Marcum also offered one additional statistical bite that shows how much things have changed.
"Five years ago, only 40 percent of transactions were paid by credit card," Lee said. "In 2020, that percentage had grown to 80 percent of all transactions being paid by credit card."
And to think that when he graduated from New Castle High School, donuts were a breakfast treat only, not a career choice. Lee's eyes then were on a computer science degree. He had little interest at that time in following his family footsteps.
"What Dad did looked impossible," Lee remembered, referring to the early morning hours and the 35 deliveries around town. "It just didn't look like anybody could replicate it. I remember thinking, 'I'd never be able to do that.'"
How important was Jack's Donuts to the community? Well, Jack Marcum Jr. remembers during the infamous "Blizzard of '78," a road grader picked him up and took him to work.
But when Jack Marcum Jr. decided the time had come for him to sell the family business, Lee's vanilla mindset suddenly changed.
"When the opportunity came to buy this place, I couldn't let anyone else buy it," Lee said. "So I bought it and I haven't regretted it since."
It was the business, not the baking, that attracted Lee. But Jack Jr. said his son has added special ingredients to the donut shop that he never had.
"He's got his mom's personality," Jack Jr. said, referring to Lee's mother, Beverly Matthews, the well-known recently retired director of the Henry County Community Foundation.
'Might as well be the best'
With cousins Austin and Chase Marcum alongside general manager Chase Reeves minding the home base, so to speak, Lee can pour on the personality in other places.
"Networking is the biggest thing I do," Lee said. "Those guys got me to the point where I could leave here and feel comfortable."
And when he goes out in search of new business, Lee is as competitive in the business world as his athletic heroes are on the court.
That trait may have been inherited from his dad, Jack Jr., who played Little League baseball for a successful businessman of yesteryear – Donald C. "Danny" Danielson.
"When I was young, I hated working for Dad at times because he was so mean to me," Lee said. "As I've grown up, I've come to understand he was like that because he wanted to have the best product. I have this competitiveness from him, that attitude 'if you're going to do something, you might as well be the best at it.'"
While Lee and his team have done many things differently than his grandpa and dad, there are some aspects to Jack's Donuts that haven't changed in 60 years.
"We do everything by hand – exactly what we did 60 years ago," Lee said. "Our mixer we have now was purchased used in 1961."
The Jack's Donuts playbook is actually helping another baking business coming to town soon. Jack Marcum Jr.'s cousin, Jim Lines, is bringing "the Preppy Puppy Company" to New Castle.
"Cousins Chase and Austin went to Massachusetts for 10 days to see their home base operation," Lee said. "They will train staff when the (dog food) company opens here."
The young torchbearer for this sweet place created by his grandfather 60 years ago loves his job, his family and his community just as much if not more than faithful customers love Jack's Donuts. Lee Marcum serves on both the New Castle Little League Board and the YMCA board. He and Amber, his wife of 16 years, moved back to town four years ago.
From the little corner of the world where he grew up, Lee eyes even sweeter dreams.
"I have three sons," he said. "I'd love to have a giant worldwide company for them by the time they are old enough – if they want to. They don't have to. I was never forced to do it, ever.'"
But, judging by the company's success, the extended New Castle community and the growing number of faithful Jack's Donuts fans, people near and far are ever so glad he did.