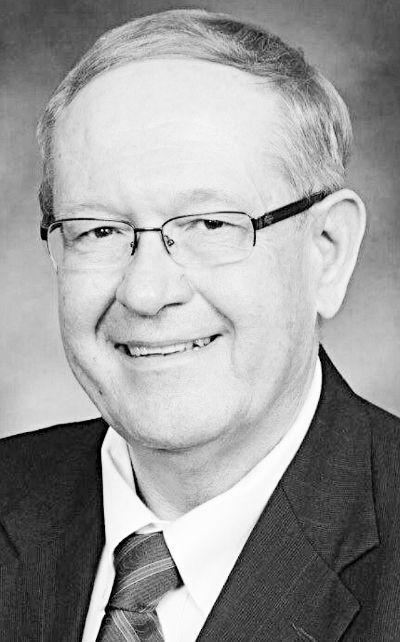 Kim L. Cronk, 65, of New Castle, passed away unexpectedly at home on the evening of Monday, September 7, 2020.
He was born on September 1, 1955 in New Castle, Indiana, a son of Jack and Barbara (Taylor) Cronk.
Kim was a proud 1974 graduate of Shenandoah High School and earned a Bachelor's Degree in Education from Ball State University in 1977. He began his law enforcement career as a Henry County Reserve Deputy in 1976 and graduated from the Indiana Law Enforcement Academy in 1978. He served the citizens of Henry County as an employee of the Henry County Sheriff's Department for 38 years, holding various ranks including two terms as Sheriff. He was currently serving his second term as a Commissioner and had served six years as a County Councilman. He was a founder of Henry County's 911 Emergency Response System and the Henry County EMS. He served as the Shenandoah School Board President for 8 years and for over 20 years served on the board of NineStar Connect.
Kim was passionate about Henry County economic development and was proud of working with other leaders in bringing new jobs to the community. He was instrumental in bringing Ivy Tech College, Gillman's Home Center, Boar's Head, Mr. Fuel Truck Stop, Love's Truck Stop & McDonald's, Crown Corporation, Renovation of the W.G. Smith Building, Henry County Expo, and the new correctional/rehabilitation center to replace the current Henry County Jail.
Earlier in his life he was a 4-H member for 10 years. He was a dog lover and food lover – especially Anderson Cracker Barrel, The Early Bird and Stacks. He loved to travel especially to Orlando, Nashville, Las Vegas, and Palm Springs. He also loved singing, especially in the car.
Always responsive to those in need, Kim did anything and everything for anyone. He was kind, big-hearted, and looked for joy in everything.
Those left to cherish Kim's memory include his parents, Jack and Barbara Cronk of New Castle, two daughters, Lauren Cronk of Los Angeles, CA, and Leanna Cronk (fiance´: Josh Lome) of Indianapolis; former wife, mom of his daughters, and lifetime friend Nila Miller-Cronk of Lebanon, a brother Jay (wife: Kim Cronk) of New Castle, several nieces, nephews, and cousins and by his canine family, Bella, Charles, and Lexi.
The Cronk family is honoring Kim's wish for no public service; however they invite you to join – either by participating or watching – as a public funeral procession through town will begin at 1:00 pm Saturday, September 12, 2020. If you wish to join please arrive at the funeral home between 12:00 pm and 1:00 pm. The procession will take Kim past many places that were very meaningful to him including The 4-H Building, Henry County Sheriff's Office, The Courthouse, The Early Bird, IVY Tech's Campus and others before returning to the funeral home. A map of the procession route will be posted at www.sproles familycares.com.
In lieu of flowers, the family requests contributions be made to one of Kim's last projects, the Henry County Expo Center, PO Box 137 New Castle, Indiana 47362 or donate online at www.sprolesfamilycares.com where you may also send the family a personal condolence.
The Sproles family and staff are honored to serve the family of Kim L. Cronk.